Stay - 39 - Harry Edward styles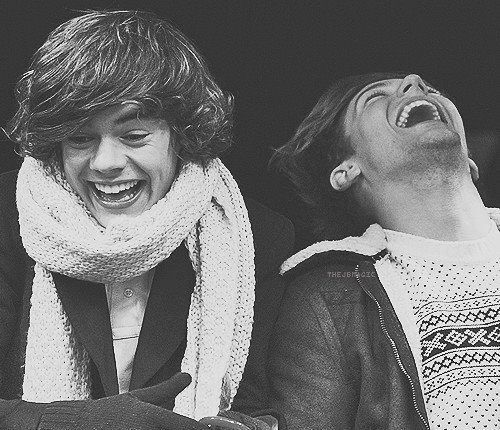 En felle zonnen straal zorgt er voor dat ik wakker wordt. Ik knipper met mijn ogen en open ze na een paar keer. Snel sluit ik ze weer, maar na een tijdje zijn ze gewend aan het licht en kan ik ze zonder problemen openen. Voor het eerst in maanden voel ik me uitgerust en echt wakker. Ik voel de energie weer door mij lijf stromen. Het schiet me ineens te binnen dat ik ook niet wakker geweest ben vannacht. Al deze feiten zorgen dat ik op deze ochtend al meteen een glimlach op mijn gezicht heb.
Ik kijk naast me en zie dat Niall het bed al uit is.
Met nog steeds mijn grote glimlach en al fluiten loop ik de trap af en richting de keuken waar ik de andere jongens aantref die me aan kijken alsof ik god ben. Ik neem vlug wat te eten en ga dan bij hen aan tafel zitten.
"euhmm…guys i would like to eat" zeg ik als het gestaar me toch net iets té ongemakkelijk wordt.
"Where is Harry" vraagt Niall –zonder nadenken- waarna hij een stamp van Liam krijgt.
"I'm here" antwoord ik dommig.
"i don't know, i feel good today, Happy not tired…i guess tell it to you guys was a good idea..I even didn't had a dream" zeg ik na een tijdje het laatste komt er nog al meisjes achtig uit. Ik verhief mijn stem omdat ik zo blij was.
"That's good" zegt Liam maar ik voel dat hij nog wat wil zeggen.
"Say" mompel ik waarna ik wat van mijn ontbijt neem.
"I still think you need that dockter…Annick her mom works in that kind of klinck she can help you and it will stay a secret" zegt hij zachtjes. Duidelijk bang voor mijn reactie.
"Hmm that's okay, we can go there now if you want. But first i'm gonna call Louis" zeg ik – nog steeds blij- waarna ik opsta en naar mijn kamer loop.

Finally a bit happy again.