[48] What?! I'm the little sister of one of those gays?! Please kill me...
[48] What?! I'm the little sister of one of those gays?! Please kill me...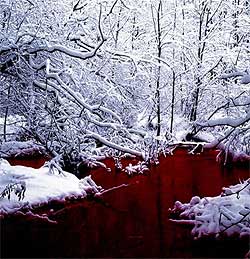 School was echt een ramp... Ik ben nu al weer toe aan vakantie. Een eeuwigdurende vakantie dan :3

Bedankt voor jullie reacties <3
"Oké, dag." Vlug loop ik de deur uit.
"Hé, ik was nog niet klaar met je!" roept Georg verontwaardigd.
"Maar ik wel met jou! Doe de rest de groetjes!" gil ik lachend terug en spring op mijn skateboard. Hij heeft me echt niks te zeggen.

Sneeuw valt met bakken uit de hemel. De jongens en ik zitten veilig droog onder de halfpipe. Al gauw ligt er een flinke laag sneeuw op de grond.
"Waarom is het zo'n kutweer?" gromt Jeff.
"God haat ons…" mompelt Alex. Ik zucht, maar dan krijg ik een grijns op mijn gezicht. Ik kom onder onze schuilhut vandaan en draai rondjes in de sneeuw. De jongens kijken we versuft aan. Mijn kleren zijn algauw wit en doorweekt – net als mijn haren -, maar het doet me niks. Ik hou wel van sneeuw, af en toe. Achter me klinkt wat geschreeuw en ik voel iets tegen mijn rug komen. Ik slaak een verontwaardigd kreetje, die niemand schijnt te horen. De jongens zijn allemaal te druk bezig met een sneeuwballengevecht. Ik lach.
"Whoah!" brult Simon en vloert Kevin. Meteen stormen Tom en Nick op ze af en springen bovenop Kevin, die luid kreunt.
"I don't want to die!" jammert hij.
"Wreedaards!" brul ik en ik smijt een gigantische sneeuwbal naar Toms hoofd. Verwoed veegt hij de sneeuw uit zijn haar.
"Die krijg je terug!" Hij bukt zich om sneeuw op te rapen, maar heeft niet op Bram gerekend. Stiekem gooit die namelijk een flinke lading sneeuw over Toms ontblote rug. Gillend schiet hij overeind en probeert verwoed de sneeuw weg te kloppen, maar jammer genoeg voor hem kan hij niet voorkomen dat de sneeuw in zijn broek glijd.
"Dat krijg je ervan!" lacht Kevin vrolijk en hij knipoogt naar mij en Bram.
"Koud – koud – koud – koud!" jammert Tom en doet een soort van mislukt dansje. Ik schiet in de lach en maak vlug nog een sneeuwbal.
"Wil je er nog één bij? Maar dan van voren?" dreig ik grijnzend.
"Nee," piept hij zielig. Opeens wordt ik tegen de vlakte geduwd. Ik worstel me los uit zijn greep en zie dat Nick bovenop me zit. Ik prik hem in zijn zij, maar dat schijnt niet te werken. Wreed smeert hij sneeuw in mijn gezicht. Ik gil en probeer verwoed overeind te komen. Meteen vliegen er een aantal anderen bovenop ons. Ik kreun en schuif langzaam onder de stapel vandaan. Nu toch niemand meer op me let, gaat dat stukken makkelijker. Tevreden klop ik mijn kleren af en zet mijn handen in mijn zij.
"Hé, wat is dat?" Bram wijst naar een vlek op mijn borst. Verbaasd kijk ik er naar. Tot mijn schrik merk ik dat de vlek donkerrood gekleurd is en steeds groter wordt.
"Shit," zeg ik zachtjes.
"Als ik jou was, dan zou ik maar vlug naar huis gaan." Ik knik instemmend. Vlug gris ik mijn spullen weer bij elkaar en sprint naar huis toe. Dit. Is. Niet. Goed.
Als ik thuis ben, gooi ik de deur met een klap achter me dicht. Het gesprek in de woonkamer verstomd even. Meteen schiet ik de trap op naar de badkamer, de deur sluit ik achter me. Ik trek mijn shirt over mijn hoofd en staar naar de wond. De wond is dik en geïrriteerd. De hechtingen zitten volgens mij wel nog allemaal goed, maar waarom bloed hij dan zo?
"GEORG!" gil ik naar beneden.
"JA?" krijg ik terug.
"WAAR LIGT DE JODIUM?"
"WAAR HEB JE HET VOOR NODIG?"
"IK HEB EEN WONDJE!"
"BOVENSTE PLANK VAN HET KASTJE!"
"OKÉ!" Ik open het kastdeurtje en zie inderdaad een flesje jodium staan. Ik doe wat op een watje en haal even diep adem. Dit gaat pijn doen. Ik sluit mijn ogen en druk het watje tegen mijn wond. Ik schiet ineen en bijt op mijn lip. Ik. Haat. Jodium.
"Ik wist het wel!" Met een ruk draai ik me om naar de deuropening en zie Megan staan. Ik zucht.
"Wat moet je?" Ze loopt naar me toe.
"Ik wil je helpen." Met een opgetrokken wenkbrauw staar ik haar niet-begrijpend aan. "Ik studeer geneeskunde," legt ze uit.
"Kijk, dat is nou handig!" grijns ik.
"Ga maar zitten en laat me je wond zien," glimlacht ze. Ik zet me op de badrand en haal het watje weg. Fronsend kijkt ze naar de wond.
"Wat heb jij nou weer gedaan?"
"Sneeuwballengevecht met de jongens," zeg ik onschuldig. Ze moet lachen.
"Dit kan trouwens weer even pijn doen." Ik trek een grimas. Grinnikend maakt ze mijn wond schoon. Oké, geen sneeuwballengevechten meer voor mij! Als ze eindelijk klaar is met schoonmaken, plakt ze er weer zo'n lekker grote, dikke pleister op. Het zijn net minuscule kussentjes. Oké, dat dacht ik dus niet.
"Bedankt," zeg ik. Even sta ik versteld van mezelf.
"Graag gedaan hoor," glimlacht Megan. "Volgens mij ben jij veel minder erg dan Georg beweerd."
"Misschien." Ik wiebel met mijn wenkbrauwen. "Maar jij bent veels te tof voor Georg. En trouwens, jij kent mij nog niet en ik ken jou nog niet." Ze haalt haar schouders op.
"Ach ja, smaken verschillen. En dan leren we elkaar toch kennen."
"Als je me maar niet gaat knuffelen."
"Deal!" Ze steekt haar hand naar me uit. Lachend neem ik die aan.
"Deal!"

Reacties?