The Hunt. • Damon Salvatore | 0uterspace |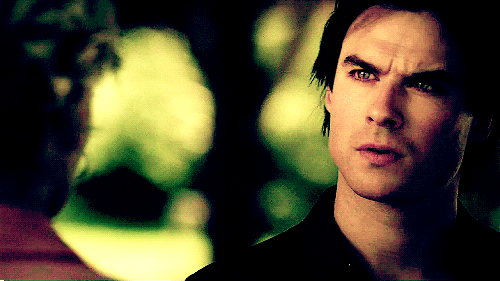 Voor 0uterspace! Ik heb de verhaallijn iets veranderd. Of iets uitgebreider gemaakt.
Hope you still like it!
Speelt zich af in de sixties.

Damon had zich altijd al afgevraagd hoe het was om een mens te zijn. Natuurlijk was hij ook mens geweest, maar nu dat hij al zo lang een onsterfelijk leven leidde wist hij het niet meer zo goed. Meestal deerde het hem vrij weinig om te drinken van een onbekende, maar er ging al de hele dag een raar gevoel door hem heen.
Soms voelde het alsof hij alleen was in deze wereld, puur omdat hij onsterfelijk was. Er was niemand die hem goed leek te snappen, buiten zijn broer. Maar het deed Stefan vrij weinig. Hij was bezig met zijn eigen problemen.

Daarom had Damon besloten zich te 'bedrinken' in het centrum van Mystic Falls. Ondanks de enigste kleine bar die zich er bevond, liep het vol van de mensen. De hippie tijd was aangebroken en dus zat het park vol met clubjes mensen die een joint aan elkaar overgaven. Het was niet Damons favoriete ding. Vooral de kleding was niks voor hem. Hij had dus ook nog steeds zijn zwarte leren jack aan. Hij wilde niet mee doen aan de te felle kleuren en de te hippe dansjes. En de wiet was al helemaal niks voor hem. Deze dagen waren voor hem dus ook niet heel fijn.
Bijna elke onbekende die hij tegen kwam rook naar de wiet en zag er bar stoned uit.
Toch moest Damon toe geven dat het ook wel wat had. Het was een stuk gezelliger, deze tijd. Als Damon zich nou ook zo voelde.
Hij liep de hoek om naar de achterkant van de bar en zag daar een meisje staan. Ze had niet zoals de rest een hippe, felle outfit aan. Ze droeg zachte kleuren en was duidelijk anders dan de rest. Misschien was hij wel diegene die ze vandaag moest hebben.
Hij leunde tegen de muur met zijn schouder en keek naar het meisje. Zij had hem echter niet in de gaten. Het viel ook niet mee dat hij haar gezicht niet kon zien.

Na een tijdje ging hij weer rechtop staan en deed zijn jack goed. Hij keek naar het meisje, die nog steeds op dezelfde plek stond.
Langzaam liep hij op haar af. Hij schraapte zijn keel en het meisje draaide bijna meteen om. Hij moest slikken toen hij haar gezicht zag. Hij herkende haar. En dat niet alleen, hij had haar veranderd. Zij was een vampier.
"Jij.." fluisterde ze. "Je hebt mijn leven geruïneerd."
Damon schudde zijn hoofd. Het was nooit zijn bedoeling geweest om haar te veranderen. Ze was een lief, aardig meisje waar hij de hele avond mee had gepraat. Ze had iets unieks en zo te zien had Damon dat verpest. Het deed hem pijn en hij had al genoeg pijn.
"Dat was nooit de bedoeling." zei hij. Hij zette een stap naar voren, maar het meisje deed een stap terug.
"Wat is je naam.." zei hij toen. Hij zuchtte. "Laat mij het goed maken. Ik kan het je leren. Alles."
"Laurianne." fluisterde ze. Damon knikte langzaam en liet een kleine glimlach zien.
"Ik heb over je gehoord." zei ze toen. Ze deed haar armen over elkaar. De aders rond haar ogen werden beter zichtbaar. "Je hebt geen leven, geen hart. Je doet maar wat je wilt. Je roeit deze hele stad uit. Of je veranderd ze in monsters."
"Ik heb dit ook nooit gewild. Luister, ik wil je helpen. Laat me je helpen." gromde hij. Hij wilde haar oprecht helpen, maar zijn geduld raakte op.
"Ik wil geen hulp."
Toen was ze weg en stond Damon hulpeloos om zich heen te kijken.

Het was een week later en Damon was Laurianne al bijna weer vergeten. Bijna. Hij had Stefan over haar verteld. Hij zei ook dat Damon haar moest vergeten. Maar dat kon niet.
Een klop op de deur deed Damon opkijken. Hij stond op en liep met een glas Bourbon in zijn hand naar de deur. Hij opende deze en liet zijn mooiste glimlach zien. Deze vervaagde toen hij Laurianne op de grond zag zitten. Ze zag er belabberd uit en haar handen zaten onder bloed.
"Hey, wat is er? Wat is er gebeurd?" zei hij verbaasd. Hij zette zijn glas op de grond en liep naar haar toe. Hij pakte haar op in zijn armen en liep zo snel mogelijk naar de bank. Hij legde haar neer en rende naar de kelder om drie bloedzakken te pakken.
Toen hij terug kwam was Laurianne aan het hoesten.
"Drink, Laurianne." zei hij streng. Ze ging rechtop zitten en begon met enige aarzeling te drinken. Bij de derde zak zat er weer kleur in haar gezicht. Damon keek haar bezorgd aan. Zij durfde hem echter niet aan te kijken.
"Lau, wat is er gebeurd?"
De bijnaam leek haar van haar stuk te brengen en ze keek op.
"Ik wilde niet meer." mompelde ze. Damon fronste. "Ik wilde niet meer drinken. Maar ik wist niet wat er zou gebeuren."
"Oh." mompelde Damon. Hij zuchtte. Hij had medelijden met haar. Het was niet makkelijk om een vampier te zijn. Dat wist hij als de beste.
"Je kan niet zonder bloed. Dat weet je zelf ook. Ik ben nog steeds bereid om je te helpen." zei hij toen.
Hij hield zijn adem in. Laurianne knikte.
"Ik weet het. Jij bent de enigste vampier die ik ken. Ik heb je nodig, denk ik." zei ze uiteindelijk.
"Het is niet zo erg als je denkt. Er zitten leuke kanten aan."
Eindelijk kon er een grijns bij Damon van af. Hij was blij dat hij Laurianne nog een keer kon zien. En dat ze eindelijk toegaf aan zijn hulp.
"Voordat we beginnen moet je iets weten.." mompelde Laurianne. Damon kantelde zijn hoofd. "Ik denk.."
Ze schudde haar hoofd en keek naar haar handen. "Ik snap het niet. Maar ik denk dat ik iets voor je voel."
Toen snapte Damon het. Hij gaf om haar, omdat hij precies hetzelfde voelde voor haar.
"Ik haat je, Damon. Maar ik denk dat je niet kan voorspellen op wie je verliefd wordt. En daarnaast ben je wel een beetje aardig." zei ze zachtjes. Damon stond op en hurkte voor haar neer. Ze keek hem verlegen aan.
"Ik ga je helpen, oké. We gaan dit laten werken."
Voordat Laurianne nog iets kon zich had hij haar opgetild en drukte zijn lippen op de hare. Toen zag hij de lach op haar gezicht. Eindelijk, dacht hij, eindelijk kon ze lachen.
"Denk je echt dat dit gaat werken, Damon?"
"Dat weet ik heel zeker. Daar zorg ik wel voor."