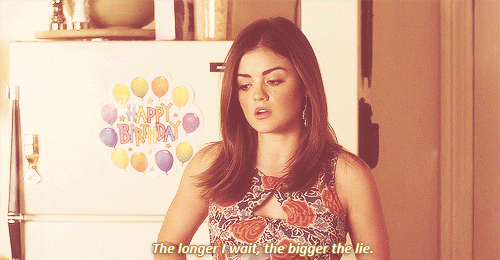 Nadieh Ramsey
Ik zuchtte en rolde mijn ogen. 'I think you can go now.' zei ik tegen Aaron.
'I really want you to think about it, Nadieh.'
'So you want me to break up?' vloog ik uit naar hem. 'Because really Aaron, that is not what I'm going to do, AT ALL.' Aaron wreef nogmaals over zijn hoofd en wendde zich naar Theo.
'Just listen to what she has to say.' zei hij, waarna hij opstond en wegliep. Ik hoorde de deur dichtslaan en voelde Theo's blik op me branden.
'This is it then I guess.' glimlachte ik half. Theo keek me verward aan.
'What's the scandal?' vroeg hij en ik zuchtte.
'If it only were just one.' Ik liep naar de bank en klopte naast me. 'It all started when I was partying.' begon ik en pulkte aan mijn nagel. 'Anne... kind of wasn't there at the time and obviously I wasn't gonna tell my parents, so I sneaked out and partied. I kind of drank too much to the limit I was drunk basically every night.' Ik stopte even om Theo's reactie te peilen. Hij keek me echter emotieloos aan en ik ging verder. 'Obviously I wasn't going to be alone when I partied and since I'm not the most ugly one and liked attention.. well I got it.' Ik slikte en kon me er niet toe brengen om Theo aan te kijken. 'I... I.. well I slept with a lot of guys... Also some of which were Aaron's former teammates..' ik beet op mijn lip en wreef over mijn arm. No way dat ik hem meer ging vertellen dan dit. Ik bedoel, hij had net zelf een kind gekregen.. 'so I guess if the press found out, they would have some pretty good stories after all.' Ik glimlachte zwak en durfde eindelijk Theo aan te kijken. Hij zat echter bedenkelijk rond te kijken en zuchtte.
'I wish you would've told me earlier.' zei hij toen.
'And then? Wouldn't you have liked me?!' vloog ik uit en zuchtte. 'You know what, I've done that and I can't change anything about it. What I can change is how I am now and I feel like I need to do that with you.' Theo zuchtte en wreef over zijn hoofd.
'To be honest with you, Nadieh, I need to think about this.' Ik knikte langzaam.
'I understand, I just hope you'll give me a chance.. knowing this.' Theo knikte, klopte op mijn schouder en liep weg.
Ik zat nog te denken aan de keukentafel toen Anne binnen kwam. 'Well, what did Aaron say?' vroeg ze voorzichtig. 'Also, I sorta need your advise on Alexis, the press,... I'm scared I'm gonna lose him if he finds out about what I did back in Cardiff.'
Ik zuchtte en besloot de eerste vraag te beantwoorden.
'Aaron said everything needed to be said and I told Theo the whole story, well, part of it about my past. He left and needed time to think and to be honest, I can't really blame him though I wish I could.' mompelde ik. Anne knikte en wreef over mijn schouder.
'Well, maybe you needed to tell him.'
'I just really hope he doesn't want to break up or something. I really liked him, Anne.'
Ze pakte een stoel naast me en beet op haar lip. 'I know. But maybe it's for the best.'
Ik schudde mijn hoofd. 'Anyway, Alexis and Cardiff? What did you tell?'
'Nothing.' zuchtte ze. 'I don't know how to and I'm afraid of his reaction.'
Ik knikte. 'I think he'll appreciate it.. at some point. What's a relationship based on lies anyway.' zei ik toen en Anne trok haar wenkbrauw op.
'Not lies, just past is untold.' mompelde ze. 'I don't know what to do, Nadieh, I'm sure it'll put him off but he deserves to know.'
'Look at you being a cheesy soul!' plaagde ik haar, maar legde uiteindelijk mijn hoofd op haar schouder. 'I'm sure he'll like you for the way you are now, you're awesome after all even though he's an ass. You need to even him out and who else is gonna do that?'
Er zijn nog geen reacties.