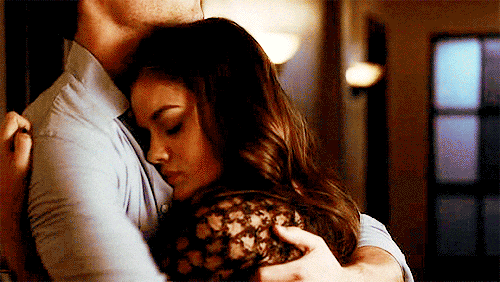 Nadieh Ramsey
'I'll tell you all about it!' riep ik meteen toen Theo binnenkwam. Ik zat zelf nog met een stuk chocola in mijn mond en kauwde er hevig op. Ik had al een halve reep op sinds ik thuis kwam, maar ik kon mezelf niet helpen.
'Was it that bad?' grinnikte Theo die mijn uitbarsting maar al te grappig vond. Ik rolde mijn ogen, gooide de reep chocola op de koffietafel en zette mijn handen in mijn zij toen hij op de bank ging zitten.
'Yes it was! She tried to take aaallll my jobs and then showing off to my manager! Who does she think she is?! I need to learn it, you know, but she just won't ell me anything, roll her eyes and do it herself! That's not what I'm asking for, Theo! The worst part is that I will have to work together with her! Can you believe that?!' Theo was verstandig en liet me rustig uit tieren, totdat ik uitgeput naast hem op de bank plofte en mijn armen over elkaar sloeg. 'I just don't know what to do, I feel so lost.'
'Aw babe.' zuchtte hij en sloeg zijn armen om me heen, waarna hij me naar zich toe trok. 'Can I do anything to make it better? Maybe tomorrow your colleague will be a better companion than today.'
'I think not and I don't know what you can do.' zuchtte ik en wreef vermoeid over mijn gezicht, Ik voelde Theo's handen naar mijn zij gaan en de binnenkant van mijn dijbenen, waarna ik stiekem begon te glimlachen en hij mij verlangend begon te kussen.
'But maybe I do.' grijnsde hij en begon me weer te kussen. Ik hoorde mijn mobiel gaan en drukte Theo opzij.
'Just one second.' grijnsde ik en zag dat het Alex was die een berichtje had gestuurd.
'He sure knows how to choose his moments, doesn't he?' bromde Theo, waarna ik moest lachen en hem porde.
'Just a second babe.' grijnsde ik nogmaals en las toen het berichtje, waarna mijn ogen groot werden. 'Wait, what?! Alexis is in Munich?! Theo why didn't you tell me?' Theo zuchtte luid en liet zijn hoofd achterover vallen.
'Seriously, Alex couldn't wait to tell you this?! But yes, he is in Munich to talk with Bayern. or maybe he's already back i don't know.'
'But if he's in Munich... what about Anne?!'
Alexis Sanchez
Met een zwaar gevoel stapte ik weer het oprijpad van mijn huis op. In Londen dan, of liever gezegd iets buiten Londen. Het gesprek met Bayern was namelijk best goed gegaan, erg goed eigenlijk. Over het salaris moesten ze nog even nadenken, maar de club zat goed in elkaar en de manager en directeur waren erg ambitieus. Ze konden mij de spelers en de garantie op prijzen bieden - iets wat ik bij Arsenal miste. Hoe ging ik dit in godsnaam aan Anne vertellen? Ik wist eigenlijk wel zeker dat ze er niet vrolijk van zou worden, vooral nadat we al waren uitgevallen over het feit dat ik voor een gesprek zou gaan.
'You're back.' zei Anne toen ik binnenkwam. Ik aaide Humber en Atom even, waarna ik haar aankeek. Ik zag dat ze niet zo goed wist hoe ze moest reageren, dus knikte ik maar.
'Yeah.. I'm sorry Anne, I never meant to put you on the spot.' zei ik toen meteen. Anne wendde haar blik af.
'I just feel stupid, Alexis. Theo is actually worrying he has to leave and you just organise your own transfer?! How does that even feel?' Ik zuchtte en krabte even aan mijn hoofd.
'I know it feels like that Anne but you have to understand.. Bayern can guarantee things Arsenal can't.' probeerde ik haar uit te leggen. Anne schudde haar hoofd.
'Oh really? And if you win the league with Bayern? Would that feel so great? It's the Bundesliga, Alexis, not the Premier League! It's Bayern you're winning it with, that must be different than winning it with Arsenal! And I'm not so sure whether I would want to go with you to Munich.' voegde ze nog toe. Mijn blik veranderde en ik probeerde toenadering tot haar te zoeken.
'What are you saying, hermosa? Come on, this is important for me.'
'But so is Arsenal for me! And plus, all my friends are here, my sister is here..'
'This is not about Nadieh, is it?' vroeg ik toen wat harder.
Er zijn nog geen reacties.