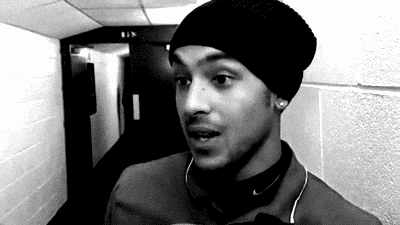 Anne Ramsey-Sanchez


De felicitaties bleven maar komen en volgens mij was half Tocopilla hier op de receptie aanwezig. Het was best raar om zo in het middelpunt van de belangstelling te staan, maar tegelijkertijd was het fijn om zoveel positieve reacties van iedereen te krijgen.
'Congrats! I'm so happy to have you as my sister-in-law!' feliciteerde Tamara me en drukte op iedere wang van me een kus. 'You're a Sanchez now! Or are you keeping your maiden name?'
'A double barrelled name! Ramsey-Sanchez, what do you think?' grijnsde ik en ik kreeg lichtjes kippenvel nu ik dat zo hardop uitsprak.
'Me encanta! And how sweet was it that the dogs were the ring bearers! I guess that was my favourite part of the ceremony, apart from the kiss of course!'
Veel langer konden Tamara en ik niet praatten, want er stonden alweer mensen te wachten om me geluk te wensen, waaronder een jonge gast die ik meteen herkende.
'Pablo!' riep ik verbaasd naar de jongen die we toen gered hadden.
Hij liep een beetje aarzelend naar me toe. 'The people of the charity thought it'd be nice if I came with them to the wedding.'
'Absolutely! It's so good to see you! Wait, let me get Alexis,' zei ik en riep hem erbij. Hij herkende Pablo ook onmiddellijk.
'Pablo, mi amigo! You look well! How are you doing?'
'Much better, thank you. Your visit in the hospital really opened my eyes. I also went to your girlfriend's ehhh wife's charity,' zei hij en ik moest lachen toen hij zich versprak. Ik vond het zelf al nog onwennig om nu naar Alexis als "echtgenoot" te verwijzen. Pablo vertelde verder hoeveel beter zijn leven nu was en het deed me echt een groot plezier om te horen.
Na een tijdje liep de receptie ten einde en werden Alexis en ik meegenomen om onze trouwfoto's te laten nemen, uiteraard ook op het strand. Om het compleet te maken, mochten Atom en Humber ook mee op de foto en daarna kon het echte feest beginnen!



Theo Walcott


De receptie liep langzaam ten einde en door alle feestelijkheden hadden we iets belangrijks over het hoofd gezien. Sophie was moe en daarbij was een trouwfeest geen geschikte plaats voor een baby, maar iedereen die we kenden, waren natuurlijk ook uitgenodigd op het feest!
'So what will we do with Sophie? It's not like Atom and Humber can babysit her!' maakte Nadieh zich druk.
'I don't know! Everyone will be at the party! Why didn't we think of that sooner?' zuchtte ik en kon mezelf wel voor m'n kop slaan.
'I was busy being the maid of honour,' verdedigde Nadieh zichzelf.
Ik rolde mijn ogen. 'So what do we do? Crash the party with a crying baby?!'
Gelukkig kwam er al snel hulp uit onverwachtse hoek. Het was Marjorie, Alexis' oudste zus.
'I have a kid too and I'm taking her to my friend tonight. I'm sure she can babysit Sophie as well. She's a teacher so she's good with children.'
'Also a three-month-old baby?' vroeg Nadieh.
'Sure! Let's go to her so you can enjoy the rest of your sister's wedding without worries,' zei Marjorie en nam ons gelijk mee. Het was eigenlijk mooi om te zien hoe de Ramsey's en de familie Sanchez aan het verbroederen waren de afgelopen dagen.
Marjorie's vriendin vond het geen probleem om ook op Sophie te passen en daarbij was het handig dat ze niet ver van het zaaltje woonde waar het feest zou doorgaan. Dan konden we altijd tussendoor nog een kijkje komen nemen.
'Thanks for your help, Marjorie,' bedankten we Alexis' zus.
'No problem! We're all family now! You must be so proud of your sister, Nadieh. Just like I'm so proud of my little brother. I'm glad he found a woman who can tame him,' grinnikte ze.
Nadieh lachte. 'Yeah, that's definitely necessary sometimes!'
'Alright, let's go to the party. Alexis and Anne will be back from their wedding photos soon.'
We volgden Marjorie naar het feestzaaltje verderop. Vooraleer we naar binnen gingen, bleven Nadieh en ik nog even staan voor een alleen-momentje.
'Have I already told you your the most beautiful maid of honour I have ever seen?'
Nadieh rolde haar ogen, maar moest toch blozen. 'You would also make a pretty maid of honour,' pestte ze me toen en ik schoot hard in de lach.
'Anyway, ready for the wedding party?' Ik keek even op mijn horloge en zag dat het al na zeven uur 's avonds was. Ik had ondertussen best honger gekregen.
'Babe, I was born ready! I'm glad Sophie is in good hands so we can party all night long if we want to!'
Ik grijnsde bij het idee. 'Yeah, and who knows what may follow!' Ik kneep nog even cheeky in haar kont en toen liepen we naar binnen.
Er zijn nog geen reacties.