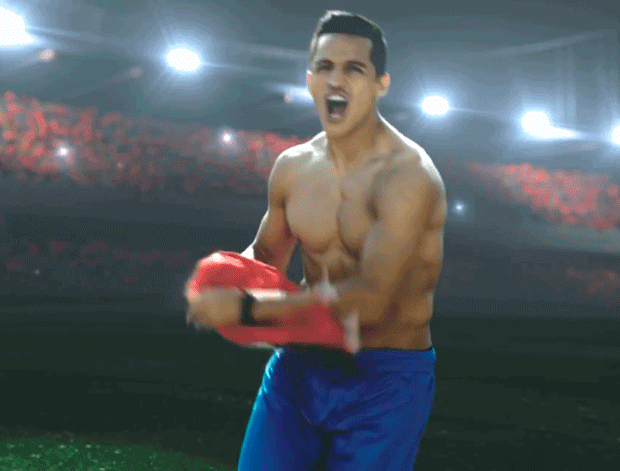 Alexis Sanchez
Ik had niet anders verwacht dan wervelwind Anne die hier binnenstormde. Het zou gek zijn als dat niet zo was. 'Anne..' begon ik, maar ze onderbrak me.
'Have you seen the papers? Or have you looked at any social media?' begon ze meteen te roepen, terwijl ik opstond en met mijn handen gebaarde dat ze kalm moest zijn. Atom en Humber kwamen ook meteen kijken en stonden nieuwsgierig voor haar.
'Yes, I did. Now be calm, I'm sure there's an explanation for it.' probeerde ik meteen, maar Anne lachte spottend.
'You bet there is! I already spoke to both of them!' Even keek ik haar sprakeloos aan.
'To both of them?' Ze knikte.
'Yes! I caught Nadieh just over an hour ago when she was ready to leave and of course I was furious, but she explained to me what really happened and I believe her. Then I went to Pierre to shout at him and he proudly confirmed the whole story! Can you believe he's such an ass that he would actually use my sister?!' Ik begreep er niks van.
'What story did he confirm?!'
'Nadieh told me she ran into him at a club and he invited her to have a drink and she did use the free champagne thing that comes with a VIP table. Anyway when she wanted to leave he told her he'd get a cab for her but instead he kissed her right in front of the paps just to drag the attention towards him and he knew that once Nadieh told the story to me, I would come over! That's why he did it Alexis! Only to trigger me! What kind of an asshole are you then?!' Ze liep druk heen en weer en zwaaide met haar armen. Toen ik haar armen te pakken had en het verhaal zelf had laten bezinken, keek ik haar aan en probeerde haar stil voor me te houden.
'That is indeed something only he would do. Are you okay? He didn't hurt you?' Anne keek me even geringschattend aan.
'Well, Nadieh hit his jaw last night and now I hit him on the other side..' Ik grinnikte even.
'He deserved that.' Ze zuchtte en ging zitten, waarna ze even over haar gezicht wreef.
'I guess that's just all we do, Alexis. Pierre and me. We only hurt each other.' Ik zuchtte even en wreef over haar rug, maar zei niks. 'Sometimes literally.' zei ze toen, waarna ik weer naar haar draaide.
Nadieh Wilshere
Halverwege de shoot had ik godzijdank even pauze. Ik kon me niet concentreren op de fotografe en hoopte niet dat het was af te lezen in de foto's, maar ze moesten het er maar mee doen. Natuurlijk kreeg ik hier voor betaald, maar het was nog altijd dat ik voor hen hier stond. Ik liep naar de buffet tafel en maakte toen meteen weer een rechtsomkeer. Nee, dit was niet de oplossing. Ik pakte een glas water en haalde mijn telefoon uit mijn tas. Meteen werden mijn ogen groot toen ik zag dat ik een aantal berichten en gemiste telefoontjes van Theo had. Meteen probeerde ik hem te Facetimen.
'Come on, pick up..' zei ik tegen mijn telefoon en zag mezelf in het scherm terwijl ik naar een rustig plekje ging. Jezus, ik zag er echt niet uit. Het scherm werd even zwart, waarna ik Theo's hoofd zag en ik opgelucht ademhaalde. 'Oh thank god you picked up. I'm sorry I didn't message you earlier but I'm at a shoot.' begon ik meteen en keek hem smekend aan. Theo glimlachte zwak.
'I wasn't thrilled when I read the papers, Nadieh but I know just as well as you that it's just a picture. Do you want to tell me what really happened?' Snel knikte ik .
'Yeah of course. So I was clubbing with Sophie and Nikkie yesterday after our argument and Pierre was there as well. Of course we didn't say no to the complimentary champagne and I swear I didn't even speak a word to him, but at the end he said he'd get me a cab, so we went outside and all these paps were there and suddenly he just kissed me. Of course they only got half of the story and didn't picture when I pushed him away or slapped him in the face.' Theo's ogen waren schoteltjes, waarna hij grinnikte.
'You slapped him in the face?' Ik knikte en glimlachte toen ook.
'Yeah I did. It was rude and he knows I'm with you which makes it even ruder. I'm so sorry, Theo, it should never have happened and I wish I could come to Liverpool today to see you but I had this shoot and-'
'Nadieh, stop, it's fine.' onderbrak Theo me en glimlachte. 'I understand. I knew there were two sides to this story and I was right.' Ik glimlachte gelukkig en veegde snel wat tranen weg, waarna ik werd geroepen.
'Thank you so much babe, I have to go but I'll call you right after. You're the best.'
Er zijn nog geen reacties.