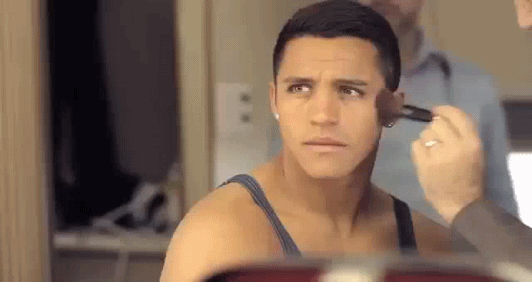 Alexis Sanchez
'Alexis! Stop it! We can't be too handsy when we arrive at home.' giechelde Anne en sloeg mijn hand weg toen die iets te ver omhoog op haar been was gegaan. Ik rolde lachend mijn ogen en kneep even in haar knie.
'Fine. Whatever you want. Are you sure Jack won't kill me?' zei ik nog, waarna nu Anne haar ogen rolde en vooruit keek. Ik zag blauwe zwaailichten achter me en draaide even de berm in, waarna een ambulance langs ons heen scheerde en ik erna weer de weg opdraaide.
'What was that? This is a fancy neighbourhood! That's gonna be in the newspaper tomorrow.' zei Anne toen.
'Don't be so dramatic/' grijnsde ik terug en reed rustig door, totdat we Jack's straat in reden en een ambulance zagen staan.
'Hey, isn't that.. Oh my god, is it standing right in front of our house!? What if it's something with Andriani and the baby?!' riep Anne meteen en sprong meteen uit de auto die nog half reed. Ik deed de auto uit en stapte ook uit, waarna ik zag dat er al een paar broeders naar buiten kwamen met een brancard. 'Who is th- OH MY FREAKING GOD!' Anne keek met grote ogen anar de brancard die werd langsgereden en klemde zich meteen aan Theo vast die ook langs liep. "THEO, WHAT HAPPENED!?' riep ze nog steeds half over toeren, terwijl ik naar haar toeliep en zachtjes over haar rug wreef.
'I don't know, I just found her lying on the bathroom floor! I don't know what happened!' riep hij ook en was duidelijk overdonderd. 'I'm gonna go with the ambulance, meet you at the hospital?' Voordat hij een antwoord kreeg, liep hij al achter de broeders aan de ambulance in en liet Anne verbaasd acher, die daarna naar mij draaide.
'Did you see that?! That was my sister laying there! We need to go to the hospital and quickly!' Ze rende alweer naar de auto, waar ik achteraan ging en naast haar ging zitten, waarna ik hem startte.
'What even happened?!'
'I don't know! Theo found her unconscious so I have no ide. Let's just go!!'
Nadieh Wilshere
Met een brak hoofd kwam ik weer een beetje bij zinnen. Althans, zo voelde het. Ik wurmde wat rond en hoorde een paar piepjes, waarna ik mijn hand wat bewoog en het voelde alsof er iets aan vast zat. Op dat moment wilde ik mijn andere hand naar mijn hoofd halen, aangezien ik wat voelde aan mijn haar. Nu was het een andere hand die de mijne tegenhield.
'Don't touch that, love.' hoorde ik een zachte stem zeggen. Ik fronste even en opende mijn ogen, waarna ik bijna boos naar Theo keek die me met een zwakke glimlach aankeek.
'What happened!?' vroeg ik schor en kuchte een paar keer. Ik voelde me zo moe.
'I'm so glad you're awake again. I thought I lost you for a minute.' zei Theo en pakte mijn hand vast. 'I found you.. did you faint or something?' Ik probeerde me het laatste te herinneren, maar het laatste wat ik wist was dat ik... oh ja.
'Yeah I guess I did..'
'And you bumped your head pretty hard. So that's a wound you're feeling..' vertelde Theo verder. Ik keek rond.
'Are we in a hospital?' vroeg ik toen. Theo knikte.
'Yeah, when i found you.. I had to call an ambulance. They ran a few tests and they said nothing was wrong with your head apart from the wound.. but, my love.. They said you are pretty thin.'
'Not again this discussion.' zuchtte ik en draaide mijn hoofd weg.
'Nadieh, just listen to me.' zei Theo. 'The doctor said you are seriously underweight hence why you need to start eating soon, even if it's just shakes.'
'This is ridiculous! it's not that bad!'
'The doctors say it, Nadieh.. come on, you've gotta listen to them.'
'What if I don't want to?!'
'Why are you doing this again, Nadieh?' zei Theo opeens en keek me emotioneel aan. 'I don't want to go through this again.'
'Again?' vroeg ik ook, waarna Theo zijn hoofd schudde en hard tegen zijn emoties vocht.
'Yes again. Remember Katie? She had an eating disorder and she didn't want to be helped. I'm sorry I couldn't tell you back then, but she's the reason why I held off a girlfriend for so long, but then we became us and.. I just don't want to go through the same thing again. Not with you, Nadieh, please.'
Er zijn nog geen reacties.