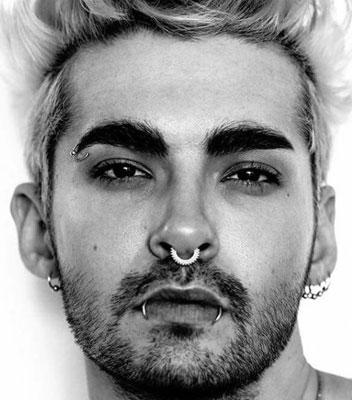 Bill P.O.V.
"Why did you push me away?"
Je probeert ieder reflex in je om weg te kijken te onderdrukken en houdt in plaats daarvan oogcontact met Maud. "I don't know... I mean, I didn't know what you were thinking and when I called you, you sounded all panicky and freaked out about the magazine. I guess I didn't want you to do something you might regret later. Like when..." Je slaat nu toch je ogen neer en probeert de laatste woorden zo snel mogelijk uit je mond te krijgen: "Likewhenweweremakingoutbefore."
"What?" grinnikt ze. Het feit dat ze lacht, zorgt ervoor dat je een klein beetje ontspant. Je ademt diep in en uit.
"Like when we were, ähm, making out before."
"I don't regret making out before," mompelt ze zachtjes tegen je borst.
"That's good to know," glimlach je. "But I didn't know at that moment and I didn't want to risk it."
Ze knikt langzaam. "I guess that makes sense."
Het blijft eventjes stil, maar er is nog iets wat je haar graag wil vragen.
"So, ähm, whilst we're covering awkward subjects," begin je voorzichtig. Ze kijkt je met toegeknepen ogen aan.
"Yes?"
"I mean, it is not like it happened often, but the few times it did, it seemed like... I can't help but notice," ratel je.
"Bill! Finish your sentences." Je kijkt haar geschrokken aan, maar ziet dan dat ze een grijns heeft van oor tot oor. Je zucht en schudt zacht je hoofd.
"It seems like you like it rough," verwoord je je gedachten uiteindelijk. Als ze stil blijft, kijk je haar vragend aan en je ziet dat haar gehele gezicht vuurrood is. "It's okay! I don't... I mean, I guess I just want to be sure."
Ze bijt zacht op haar lip en probeer oogcontact te mijden. "I guess that might be true."
Je knikt enkel en het blijft een poosje ongemakkelijk stil. Dan hoor je dat Maud diep in en uit ademt en je wacht tot ze weer begint te praten.
"It's just, uhm, I guess I never really knew I did or, hell, I never even tried before and with you it... It just sort of happened and I don't know. I feel like I shouldn't like it or I shouldn't want to, because of what Evan told me, but I kinda do."
"Like it or want to?"
"Both," geeft ze bijna onhoorbaar toe. Je grinnikt zacht en drukt een kus op haar haar.
"Is it okay that I don't want to yet?" Ze kijkt je geschrokken aan. "I mean, it is not that I don't want to, because I do, but not right now. I think I need some time to process."
"So do I, I think."

Iets meer dan een half uurtje later, lopen jullie samen het terras op waar je met de rest van de band hebt afgesproken. Je ziet dat de rest er nog niet is en een kleine glimlach verschijnt op je gezicht. Maud kijkt je vragend aan.
"Oh, they like to complain about how I'm always late, but look who's late now," grinnik je, terwijl je aan één van de grotere tafels gaat zitten. Ze gaat naast je zitten en verstrengeld haar hand met die van jou.
"So who do you think will get here first? The guys or my girls?"
Je kijkt haar inschattend aan. "Are you challenging me to place a bet?"
"I sure am, mister. Loser has to take the winner on a date tonight."
"Deal. I think my band will be here first, obviously," grinnik je, terwijl je in je zakken graait naar een pakje sigaretten. Terwijl je die op tafel legt en opkijkt, heb je direct spijt van je uitspraak: daar komen Roos en Sophia al aanlopen.
"Good luck coming up with a plan for tonight," plaagt ze je, voordat ze opstaat om haar vriendinnen te begroeten. Je kan niet anders dan grijnzen. Je weet al precies wat jullie vanavond gaan doen. Je staat op en geeft beide dames een knuffel.
"Where's the band?" vraagt Roos, terwijl ze gaat zitten.
"They should be here any minute," zegt Maud met een triomfantelijk grijns op haar gezicht. Alleen dat aanblik zorgt er al voor dat je haar verliefd aankijkt.
"Lijkt erop dat jullie weer oké zijn," mompelt Sophia snel in het Nederlands. Je kijkt haar vragend aan. Maud zucht en rolt met haar ogen.
"Soof is, not so subtle I may add, refering to our fight earlier today at Starbucks."
"What?" zegt Sophia op haar beurt. "I just said you guys seem okay again."
"We're fine," zegt Maud met een scherpe ondertoon in haar stem en ze knijpt zachtjes in je hand. Je kijkt haar glimlachend aan en drukt een kus op haar lippen.
"Yeah, we are."