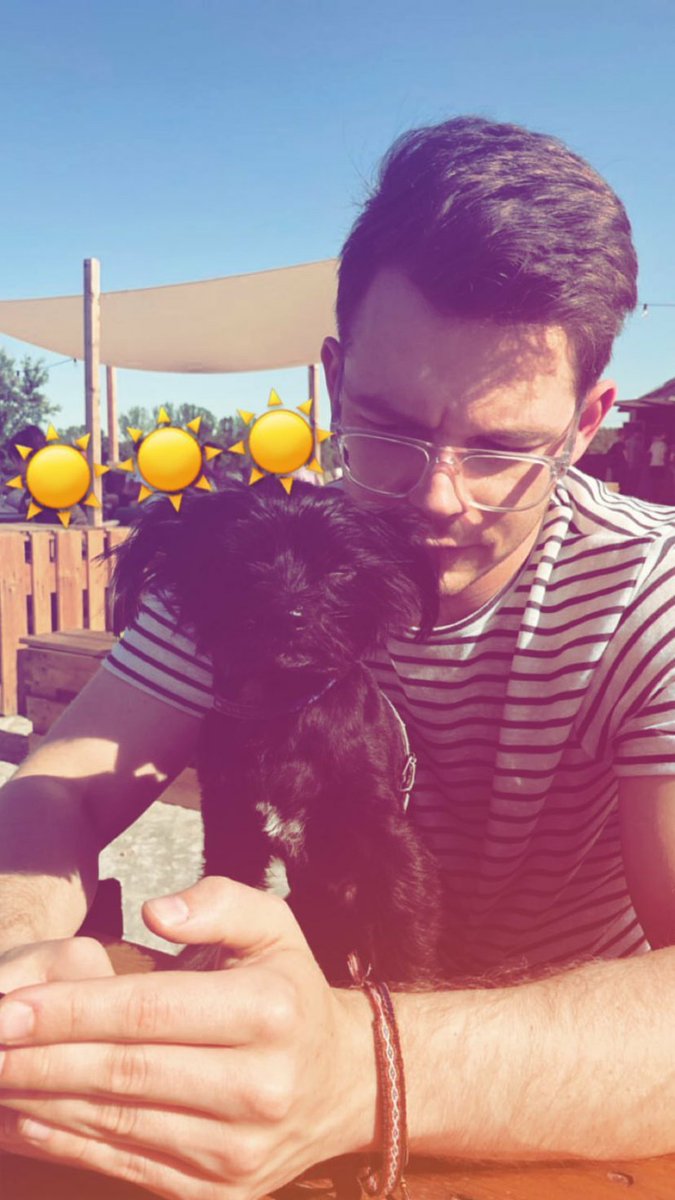 Georg kijkt je vol ongeloof aan, maar je bent vastberaden. Dan wendt hij zijn blik tot Gustav, maar ook hij lijkt aan jouw kant te staan. Dan zucht hij en knikt.
"Oké, ja, ähm, ik heb dit niet zo handig aangepakt," begint hij voorzichtig. Je trekt vragend je wenkbrauwen op, alsof je wil zeggen 'is dat alles?'. "Dat lost nu niks op en dat weet ik ook wel. "Misschien is het ook wel beter als je me uit de band kickt, ik denk niet dat Bill mij ooit nog wil zien."
"Bill weet het niet," mompelt Gustav. "Als in, hij weet niet dat je het zelf verzonnen hebt, of waarom."
"Waarom niet?"
"Omdat de situatie nog veel rotter zou maken dan hij al is," zucht je. "Maud weet het ook niet, mocht je je dat afvragen. Maar dat betekent niet-"
"Ze wil me niet meer spreken," biecht Georg op. "Ik heb geprobeerd om contact met haar te zoeken, nadat ik Bill had gesproken en eerst reageerde ze normaal en toen zei ze ineens dat ze me niet wilde spreken."
"En terecht," brom je. "Maar dat komt dus niet omdat ze het weet, want ze weet van niks."
"Oh." Hij lijkt even opgelucht, maar dan betrekt zijn gezicht weer. "Dus ze moet me niet."
"Dat hoop ik niet, nee. Ze hoort bij Bill, eikel." Je kijkt Gustav verbaasd aan - je had niet verwacht dat hij zich er ook in zou mengen, laat staan op deze manier. "Dankzij jouw acties, willen zelf zij elkaar niet meer spreken. Het is jouw schuld als zij uit elkaar gaan. Het is jouw schuld als zij... Het is jouw schuld."
"Het spijt me," stamelt Georg uiteindelijk. "Ik had het nooit moeten doen en ik heb er nooit bij nagedacht dat het zo uit de hand zou kunnen lopen."
"Wat had je dan gedacht?"
"Ik, ähm, ik.. Ik heb er helemaal niet bij nagedacht, geloof ik."
"Nou, dat blijkt maar weer," zucht je. "Je hebt er echt een rotzooi van gemaakt, Listing, en die mogen wij nu weer op zien te ruimen."
"Sorry," mompelt hij opnieuw. "Ik beloof dat ik er alles aan zal doen op te helpen."
"Ik denk dat het beter is als je je er niet mee bemoeit." Voor iemand die normaal gesproken zo rustig is, komt Gustav hard uit de hoek vandaag. "Ik denk dat het beter is als we jou een tijdje niet zien."
Georg knikt langzaam en zucht. "Als dat is wat jullie willen."
"We hoeven voorlopig niks als band," bedenk je hardop. "Dus het lijkt me beter dat we die tijd inderdaad ook even niks van je horen. Zodat we de tijd en mogelijkheid hebben om Bill uit de ellende te trekken, zonder dat het nog erger wordt dan het al is. Je moet alleen wel bij deze beloven dat je nooit aan Bill zal vertellen waarom je hem die leugens verteld hebt en dat je nooit maar dan ook echt nooit meer zoiets flikt. Dit is de laatste keer, Listing, anders spreek ik je echt nooit meer."
Hij knikt opnieuw langzaam. "Ik beloof het. Het spijt me, echt."
Je haalt een tikkeltje onverschillig je schouders op. "Dat zal me een worst wezen. Het gaat wel even duren voordat we jou weer kunnen vertrouwen."
"Snap ik - maar het spijt me echt, en dat moeten jullie geloven."
"Ik moet niks," bromt Gustav, terwijl hij opstaat. "Ik heb niks meer te zeggen. Ik zie je zo bij de auto, Tom."
Georg kijkt hem verbaasd na en kijkt jou dan hulpzoekend aan. Je schudt zacht je hoofd en staat ook op. "Sorry - ik zie je wel weer."

Bill P.O.V.
Na een paar uur winkelen, zit je met slechts twee tasjes op het terras. Je legt de tasjes op de lege stoel links van je. Heidi zit rechts naast je met wel tien tassen.
"Oké, mag ik nu please mijn telefoon even zien," smeek je, nadat jullie wat te drinken hebben besteld. Na een winkel of drie was ze er klaar mee dat je steeds op je telefoon keek en heeft ze hem van je afgepakt. Ze grinnikt nu en haalt hem uit haar tas.
Maud <3: Yes. Call me tonight?
Bill: Yes! Around 8?
Maud <3: Sure.
Met een kleine glimlach laat je je telefoon aan Heidi zien. "Ze praat in ieder geval nog tegen me."
"Ja, natuurlijk," glimlacht ze. "Nou, laat eens zien wat jij nou gekocht hebt!"
Je kijkt haar verbaasd aan. "Daar was je bij."
"Niet toen je dát kocht." Ze knikt naar het tasje van de Karat, een juwelier in het winkelcentrum waar jullie geweest zijn. "Wanneer ben je überhaupt daar geweest?"
"Toen jij naar het toilet ging," geef je toe. "Het is Maud's verjaardag een paar dagen na die van Tom en mij en ik..-"
Je kan amper vertellen wat je gekocht hebt of waarom, of ze heeft het tasje al van de stoel gegrist. Ze haalt er een klein doosje uit en kijkt je vol ongeloof aan. "Wat zit hierin, Bill?!"