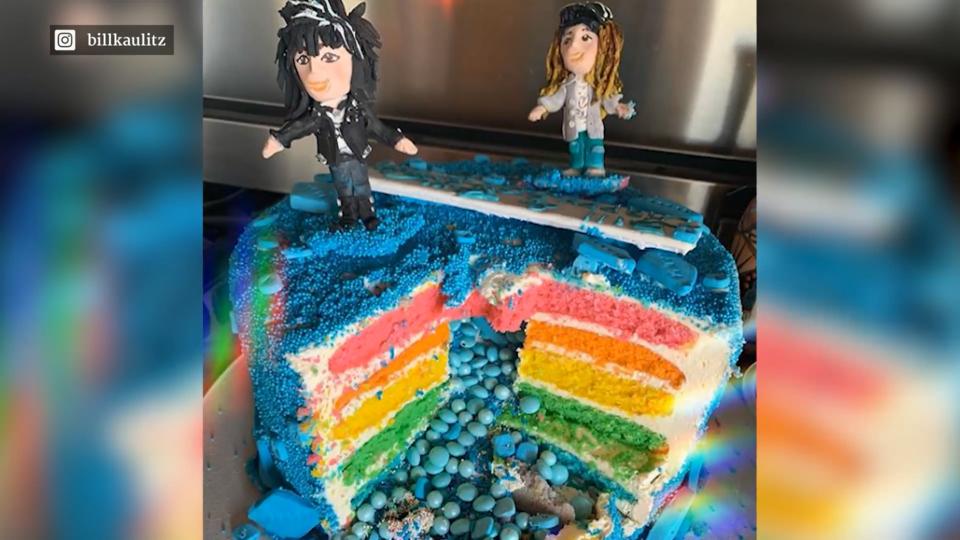 "You haven't told Heidi?" breng je verbaasd uit, terwijl je opkijkt van je kop koffie. Je ogen ontmoeten die van Tom en je kleurt knalrood als je ziet dat hij zijn hoofd schudt en uitdagend met zijn tong zijn lippiercing laat bewegen.
"Oh, grow up, Kaulitz." De woorden verlaten je mond voordat je er erg in hebt en drie paar ogen zijn vol verbazing op jou gericht. Je rolt met je ogen en besluit de eer maar aan jezelf te houden.
"Tom is referring to the fact that Bill and I had sex last night, like he's turning thirteen instead of thirty tomorrow."
Bill verslikt zich in zijn glas sap, terwijl Heidi Tom een pets tegen zijn achterhoofd geeft.
"Hey!" klaagt hij, terwijl hij met een pijnlijk gezicht over zijn achterhoofd wrijft. "What did I do to deserve that?"
Heidi sist hem iets toe in het Duits wat je niet kan verstaan, maar aan de tevreden glimlach op Bill's gezicht te zien, heeft ze hem op zijn plek gezet.
"All I'm saying is, I ran into Maud last night and she was grinning like a fifteen-year-old school girl," mompelt Tom. "Which made it particularly interesting to find out why - which I did in less than two minutes, I might add."
Je rolt je ogen. "Wow, great job, Sherlock."
Bill grinnikt zacht naast je en een glimlach verschijnt op Heidi's gezicht.
"Well, I'm glad you found somebody who isn't scared to speak her mind, Bill."

"I'm sorry about Tom," verzucht Bill, als jullie een uurtje later op zijn bed liggen. Jullie zijn naar boven gegaan om jullie aan te kleden, maar zijn in plaats daarvan nog even op bed gaan liggen. Je streelt met je hand naast je hoofd over zijn borst en haalt je schouders op. "It's all right."
"So, you were grinning like a school girl last night, huh?"
Je voelt je wangen weer rood kleuren. "Maybe."
"Last night was kinda amazing."
Je kijkt even op en ziet dat hij dromerig naar het plafond staart.
"It was," zucht je, terwijl je weer op zijn borst gaat liggen. "There, ähm, was something I wanted to tell you last night..."
"Oh?"
"I mean, technically, I did, but you were already fast asleep, so I don't think you heard me," ratel je.
"Breath," grinnikt hij en hij drukt een kus op je haar. Je verzamelt alle moed die je in je lijf hebt zitten om je hoofd een stukje te draaien en hem in zijn gezicht aan te kunnen kijken.
"Bill?"
"Hm?"
"Ich liebe dich."
Het duurt voor je gevoel een eeuwigheid voordat hij reageert, terwijl het in werkelijkheid waarschijnlijk slechts een paar seconde was. Een grote glimlach verschijnt op zijn gezicht, als hij terug fluistert dat hij ook van jou houdt. Hij buigt naar je toe en drukt zijn lippen op die van jou. Je draait een stukje om hem terug te kunnen zoenen en hij maakt hier direct gebruik van door je bovenop hem te trekken. Hij begraaft zijn handen in je haar en houdt je gezicht bij dat van hem, als je probeert je hoofd terug te trekken. Je beweegt plagend je heupen heen en weer en hij gromt, terwijl hij zacht aan je haar trekt.
Een luid gebonk op de kamerdeur verstoort jullie momentje.
"Bill! Maud! We have to get going," klinkt het vanaf de gang. "We have lots to do for the party tonight!"
Bill gromt verslagen. "On our way!"
"To be continued," fluistert je hem toe, voordat je op staat om je aan te kleden.

Het is die avond zo vreselijk druk op het feestje, dat het je moeite kost om überhaupt in Bill's buurt te kunnen blijven. Rond vijf voor twaalf geeft Heidi je een seintje dat ze de taart gaat pakken, die jullie vanmiddag voor de jongens gehaald hebben. Je knikt om aan te geven dat je het gezien hebt en zorgt ervoor dat Bill en Tom op dezelfde plek staan als ze met de taart terug komt. Heel de zaal barst los in een variatie op Happy Birthday in verschillende talen en je kijkt met een tevreden glimlach naar de verraste gezichten van de tweeling als ze de taart zien. Bill telt enthousiast af tot het precies twaalf uur is en dan blazen ze samen de kaarsjes uit.
"Dirrrrty thirty!" roept Tom, terwijl hij Heidi naar zich toe trekt en een kus op haar lippen plaatst. Je kijkt een beetje jaloers toe - het leek jou en Bill niet de beste avond om bekend te maken dat jullie een stel zijn. Alsof hij je gedachten kan lezen, ontmoet jouw blik die van Bill en hij gebaart naar de deur van de zaal, voordat hij de menigte in verdwijnt. Je wacht even en loopt dan ook richting de deur. Zodra je de deur uitkomt, kijk je zoekend rond - er zitten misschien wel zeven andere ruimtes aan deze gang en je hebt geen idee door welke deur Bill verdwenen is. Je loopt door, terwijl je wacht op een teken van leven. Dan vliegt één van de deuren open en trekt Bill je naar binnen. Hij drukt verlangend zijn lippen op die van jou. "Finally..."