137 - Our freedom came to an end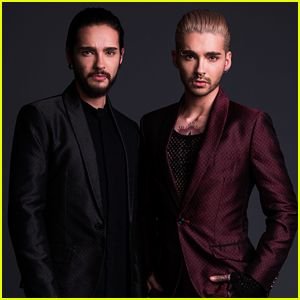 Behalve dan dat de tweeling sowieso al populair is vandaag omdat ze jarig zijn, explodeert Bill's telefoon al helemaal na die laatste Instagram-post. Een eindeloze reeks meldingen van Instagram van zowel mensen die comments plaatsen als mensen die de foto delen en heb taggen, gevolgd door berichtjes van mensen die hij kent maar nog niks verteld had, afgemaakt met David die in alle staten is als hij Bill eindelijk te pakken krijgt. Hij schreeuwt zo hard door de telefoon, dat Bill de telefoon een stuk van zijn oor houdt. Hij kijkt verontschuldigend jouw kant op.
Jullie liggen samen op het gras in de tuin in de zon, om een beetje op te drogen en uit te rusten van het zwemmen.
"Sorry," zegt hij zonder geluid te maken. Je haalt je schouders op - hij kan hier toch ook niks aan doen? Ze spreken Duits met elkaar en je verstaat er, zoals altijd, vrij weinig van. In plaats van mee te luisteren naar het gesprek, volg je de lijntjes van zijn tattoos op zijn borst met je vingers. Hij schenkt je een klein glimlach, terwijl hij door discussieert.
Na zeker twintig minuten hangt hij met een geïrriteerde zucht op. "So, that was David."
"I figured. He sounded kinda agitated."
"He was not amused, no."
"Why?"
"Because of the Instagram picture." Bill kijkt je aan alsof je hem vraagt of de lucht blauw is. Je rolt met je ogen.
"No shit, Sherlock. I just don't understand why, it's your account, it's your picture, so why does he-"
"My life doesn't really work like that. I have to discuss things like this with my manager. He was already a bit ticked off when we.." Hij valt stil, alsof hij iets wilde zeggen, wat hij eigenlijk niet mag zeggen.
"When we... started dating?" gok je. Hij knikt en zucht.
"Yeah."
"Please don't tell me that you should have asked for his permission to date me," weet je vol ongeloof uit te brengen. Hij haalt willekeurig zijn schouders op en je schiet overeind, een tikkeltje gefrustreerd. "Seriously, Bill?! You had to ask him if you could please go on a date with me?!"
"Well, it wasn't exactly like that..." Hij begint uit te leggen dat het meer te maken had met het verzwijgen dat hij bij jou was en dat jullie een (beginnende) relatie hadden, dan dat het om jou ging. "He can't tell me who to date or not, but he's supposed to help me out when it comes to press and stuff. He can't do that if he doesn't know I'm seeing someone."
"So you have to tell him about every single date you go on? Damn, he's worse than my mom."
Bill kijkt je even niet begrijpend aan, maar schiet dan in de lach en geeft je een zachte duw. "He's really not that bad."
"So, what did he want?"
"He wanted us to do an interview tonight."
Je kijkt hem geschrokken aan. "I'm not sure I want to-"
"Don't worry, I told him no." Hij glimlacht even en zucht dan. "Which means I have to do it alone."
"Oh... I thought we were going out for dinner tonight."
"We are. I can do it over the phone before we go out."
Je knikt langzaam en gaat weer naast hem liggen. "Okay.."
"We'll be all right," belooft hij.

Een klein uurtje later dan geplanned zitten jullie alle vier in wat kennelijk het favoriete restaurant van de tweeling is. Je kijkt een beetje schichtig om je heen, op zoek naar de paparazzi.
"They're not allowed in," legt Heidi je fluisterend uit, als ze ziet wat je doet. Je knikt en probeert te ontspannen, maar de hele situatie is zo vreemd en nieuw, dat je er helemaal zenuwachtig en ongemakkelijk van wordt.
"Okay," probeert Tom de spanning een beetje te breken. "So how was the interview?"
Omdat Bill uiteindelijk nog vrij snel aan de telefoon heeft gezeten, heeft hij jullie er nog niks over verteld, behalve dan dat het gelukt is en dat jullie eindelijk richting het restaurant konden gaan.
"Oh, you know, the usual," antwoordt Bill. Tom en Heidi knikken, maar je trekt je wenkbrauw vragend op.
"New to this," herinner je hem. "What did they ask? What did you say?"