152 - I'm trying to tell you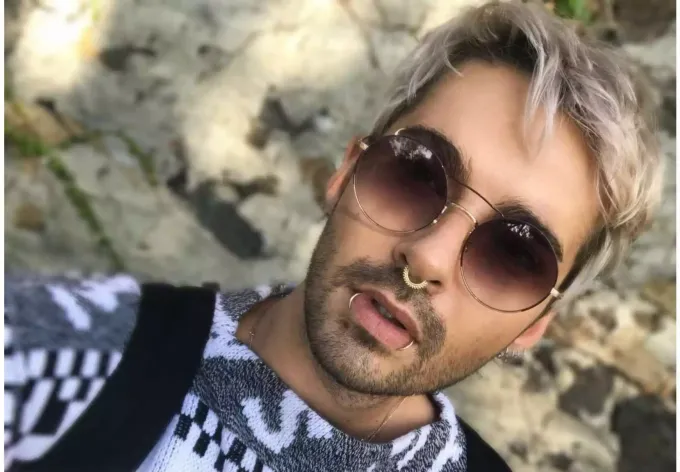 Je kan haast niet stoppen met het kettinkje te bewonderen. Heidi en Tom zijn ondertussen de keuken in verdwenen om voor het eten te zorgen en je zit naast Bill op het balkon. Hij biedt je een sigaret aan en steekt er dan zelf ook één op.
"So, uh, there's a reason I picked this specific necklace," begint hij voorzichtig. Je weet je ogen even van het hangertje af te halen en kijkt hem vragend aan. "Actually there's two. One - this way I'll always be with you, no matter where we are or how long we're apart." Je voelt opnieuw een brok in je keel en probeert hem weg te slikken. "Two - you are my world."
Je kijkt hem sprakeloos aan en krijgt het met moeite voor elkaar om hem opnieuw te bedanken. "It's gorgeous, Bill. I love it."
Hij glimlacht en drukt een kus op je lippen. "Glad you like it. On another note, when did you learn how to speak German?"
"I don't really speak German," geef je beschaamd toe. "I might have googled how to talk dirty, or, uh, schmutzig reden, in German."
"I love you," grinnikt hij, terwijl hij je naar zich toe trekt en zijn armen om je heen slaat. "I can't believe you know how to talk dirty to me, but don't know how to say happy birthday in German."
Je slaat verlegen je ogen neer. "Well, what I told you today is pretty much the extent of my German - I am trying to expand though. For example, now I know how to tell you that you turn me on."
"Hm. I still like the fact that you're trying. Do you.. Would you want me to learn Dutch too?"
"Please don't," grinnik je. "I hate the Dutch language."
"Oh, come on. I'm sure it's not that bad. How do you say, uh, I think you're cute in Dutch?"
"Uh, ik vind je leuk?"
"Iek viend je loik?" komt er twijfelachtig uit zijn mond en je schiet in de lach.
"Close enough. Okay, I got one for you. If you can guess the translation, you're the absolute best."
"All right, try me."
Je ademt diep in en uit. "Ik verhuis als het goed is volgende maand naar Amerika en dan kom ik voor twee maanden bij jou wonen."
"Wow, okay. One more time, slowly."
"Ik verhuis.."
"You.. I don't know that word.. something with a house?"
"...als het goed is..."
"Uh, something, something, to be good?"
"...volgende maand..."
"That sounds a bit like following.. and uh.. moon?"
"...naar Amerika..."
"Something with America."
"...en dan kom ik..."
"Then you'll come."
"...voor twee maanden..."
"For two...something?"
"...bij jou wonen."
"Bei, so, with.. something.. you? Wohnen is live..."
Je grinnikt als je ziet hoe hard hij aan het puzzelen is om eruit te komen wat je hem probeert te zeggen, maar je wil hem de vertaling nog niet geven. Hij komt er sowieso vanzelf wel achter.
"Okay, I want to try and guess," zegt hij na een tijdje. "Can I hear it again?"
"Ik verhuis als het goed is volgende maand naar Amerika en dan kom ik voor twee maanden bij jou wonen."
Je ziet vanuit je ooghoeken dat Sophia en Roos in de deuropening zijn verschenen en je met een open gevallen mond aankijken.
"Ik leg het straks uit," zeg je snel. "Bill is trying to translate Dutch to English."
Ze knikken en kijken hem afwachtend aan.
"If I'm good at your house you'll come to America to visit me?" probeert hij.
Je glimlacht. "So close, but alas, wrong."
"I'll figure it out some time this weekend," belooft hij, terwijl hij opstaat. "I'm gonna see if Heidi and Tom need any help with dinner. Hey Soof, hey Roos."
"Hey Bill!"
"Hi dude!"
Hij verdwijnt naar binnen en Sophia en Roos staren je vol ongeloof aan. "Je verhuist volgende maand naar Amerika?!"
"Ssst," sis je. "Hij kan het dan misschien niet verstaan, maar de rest van de buurt wel."
"Maar, huh? Je zou toch pas in februari gaan?" ratelt Sophia. "En dat wist je nog niet eens zeker!"
"Ik heb een gesprek gehad op school vandaag," leg je uit. "Ik wilde overleggen over de situatie met de foto-"
"Ja, wat was daar nou mee? Je begon daar van de week over, maar toen, uh, ging het daarna over andere dingen."
"Bill heeft een foto waarop ik duidelijk zichtbaar ben op zijn Instagram geplaatst." Je zoekt de post op en laat het zien. Ze knikken begrijpend. "Nou, dus dat wilde ik overleggen en ik wilde weten of ik inderdaad naar UCLA kan voor die Stay Abroad opdracht. Mijn docente, Jenn, was zo enthousiast, dat ze vandaag nog een stageplek voor me geregeld heeft in L.A., waar ik in oktober kan beginnen."
"Wat is er dan met die twee maanden?" vraagt Roos.
"Ik ga dan oktober en november daarheen, ben hier in december, en begin daar dan weer halverwege januari."
Ze knikken allebei, maar blijven een beetje stil. Je vraagt of alles wel oké is, en Sophia laat een klein glimlachje zien.
"Ik vind het supervet voor je, babe, maar ik ga je gewoon missen."
"Laten we het daar nu niet over hebben," zeg je snel, "Vanavond gaan we feesten!"