160 - I tell you things you wanna hear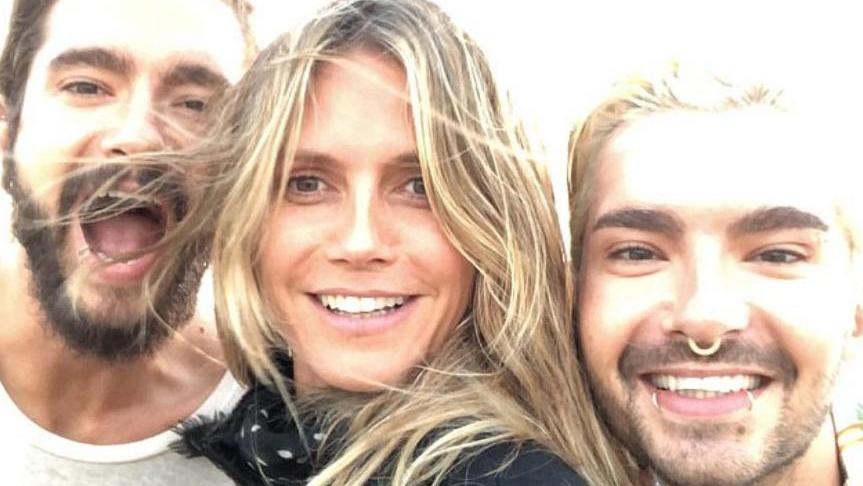 Maud P.O.V.
De rest van de avond is rustig en een beetje vreemd gelopen. Georg bleef een beetje hangen, maar is op aanraden van Tom er toch maar vandoor gegaan. Zelf wil je geen woord aan hem vuil maken en heb je demonstratief de deur van de woonkamer achter hem dichtgedaan. Jullie hebben, om de traditie hoog te houden, om twaalf uur nog geproost op Sophia's verjaardag en rond een uur of één was iedereen de deur uit. Je hebt Bill in zijn pyjama geholpen, die blijft beweren dat hij oké is, maar onder de blauwe plekken zit en ligt te kijken hoe hij onrustig naast je slaapt. Na uren lang woelen en draaien, ben je kennelijk toch in slaap geworden, want de volgende ochtend word je wakker gemaakt door een iets te blije en hypere Bill. Je schrikt even van hoe toegetakeld zijn gezicht eruit ziet als je je ogen opent, maar herinnert je al snel hoe de avond ervoor gelopen is.
"Good morning, babe," grijnst hij en hij drukt een kus op je lippen. "Coffee?"
"Sure," mompel je en je grabbelt je telefoon van het nachtkastje om te kijken hoe laat het is - half elf. Je kreunt, voor je gevoel is het nog midden in de nacht. Je hijst jezelf overeind en pakt de koffie van Bill aan als hij terug de slaapkamer in loopt. Hij wacht geduldig af tot je het kopje leeg hebt en pakt het dan van je aan om een refill te halen. Als je met de tweede kop koffie zit en je hersenen weer een beetje beginnen te werken, kijk je hem vragend aan.
"Why are you so awake?"
"I figured it out," zegt hij trots.
"You figured what out?"
"What you were telling me in Dutch. What it means."
"Oh, really?"
"Yup." Je ziet het enthousiasme van zijn gezicht stralen en kan niet anders dan met hem mee lachen.
"Okay, Sherlock. So, what did I tell you?"
"You're planning on moving to America, aren't you?"
Als je langzaam knikt, springt hij zowat bovenop je en sluit je in zijn armen. "Oh my god! You really are?!"
"Yes! Watch the coffee!"
Hij pakt het kopje uit je handen, zet het op je nachtkastje en trekt je dan weer stevig tegen zich aan om je te overladen met kusjes.
"When?!"
"In a month. I have to talk to one of my teachers on Monday, she helped me organize this."
"I'm coming with you," besluit hij. Je schudt lachend je hoofd. "I am, whether you like it or not."
"Fine, I'll ask her if you can come with me. I do have classes on Monday too, though."
"I don't mind," zingt hij vrolijk. "As long as it's you and I."
Je grinnikt. "So, how did you figure it out?"
"I don't know, I woke up and I just knew, I guess." Hij haalt zijn schouders op. "What is the actual translation of what you said? I feel like I understood like three words."
"I said that if everything goes right, I will be moving to America next month and I will come and live with you for two months."
De brede grijns op zijn gezicht maakt plaats voor een beteuterde glimlach. "Just two months?"
"I have to go back to the Netherlands in December to arrange some stuff for school, but I'll come back in January and stay at least for another six months."
"Really?!"
"Yes, really."
"That's so great! I can't wait to tell Tom and Heidi."
Hij springt vrolijk het bed uit en schiet de slaapkamer uit. Je kijkt hem hoofdschuddend na en pakt je koffie van het nachtkastje. Een brul uit protest klinkt uit de logeerkamer als Bill daar binnenstormt, gevolgd door wat gevloek in het Duits. Je spitst je oren, maar kan er niet genoeg van horen, laat staan verstaan om te begrijpen wat er gezegd wordt. Na een paar minuten is er een plotselinge stilte, gevolgd door getrappel op de gang en binnen no-time staan Bill, Tom en Heidi in je slaapkamer. Je trekt de deken een stukje omhoog en kijkt ze met een schuin hoofd aan.
"Told you you would eventually move to LA," grijnst Tom.
"Welcome to our weird little family," glimlacht Heidi.
"This is going to be so great!" stuitert Bill.
Je kan niet anders dan glimlachen. "Yes, it is."