196 - Don't need permission, anyway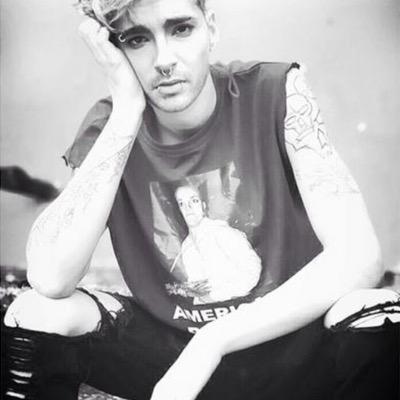 Maud P.O.V.
De dagen nadat Bill naar Nederland is gekomen trekken in een soort (met-seks-gevulde) waas voorbij. Je hebt de meeste dingen op school kunnen regelen en vandaag heb je voor de laatste keer met Jenn afgsproken. Bill stond erop om weer mee te gaan en jullie zitten nu samen zo goed en kwaad als het kan undercover in de trein richting Utrecht.
"I can't believe we're leaving in two days," fluister je hem toe, terwijl je je hoofd op zijn schouder laat vallen. Hij slaat zijn arm om je heen en drukt een kus op je wang.
"Are you nervous?"
"A little. Not as nervous as I thought I would be, though."
Hij glimlacht. "Good. It will be fine."
"I guess. I keep thinking that I'm forgetting something."
"You've packed?"
"Yes."
"You have a visa?"
"Yes."
"You have a crazy hot boyfriend?"
"Yes." Je schiet in de lach. "I don't know. Maybe it is just the nerves that make me think I forgot something."
"It'll be fine. Maybe we can go to the city centre tomorrow evening, to drown your nerves?"
"That sounds like a plan," glimlach je. "I still can't believe that Roos and Sophia won't have time to meet up tomorrow."
"You'll see them tonight, right?"
"Well, yeah, but it's different." Je zucht diep. "Remind me to ask my mom what time she's coming over tomorrow."
"Sure thing. Any other family you have to say goodbye to?"
Je kijkt Bill ietwat geschrokken aan - dat is wat je bent vergeten!
"What's wrong, babe?"
"Oh, no. He's gonna hate me even more than he already hates me."
"Who?"
"I can't believe I forgot to tell him!"
"Forgot to tell who?"
"My dad! I completely forgot to tell my dad that I'm moving to the US."
Hij kijkt je een beetje puzzelend aan. "I thought you weren't really in touch with your dad? Like, this is the first time you actually mentioned him. "
"It's.. ugh, it's just complicated." Je vist je telefoon uit je broekzak. "I better call him."
"Does he even know about, ähm, us?"
Je perst je lippen op elkaar. "In a way."
"Meaning?"
"Uh, so he called my mom when I was visiting you in Los Angeles. He was the one who told her about the pictures of, uh, us."
"Why didn't you tell me?" Bill kijkt je vragend aan. Je haalt je schouders op.
"I don't know. Didn't really seem that important." Ondertussen zoek je het nummer van je vader op en je drukt op bellen. "Here goes no- Hey pap!"
"Maud?" klinkt het verbaasd aan de andere kant van de lijn.
"Ja."
"Oh. Hoi."
"Hi. Hoe, uh, hoe is het?"
"Druk. Ik ben op mijn werk, is het belangrijk?"
"Oh. Uh, nou, ik wilde je iets vertellen."
Je hoort hem zuchten aan de andere kant. "Wat is er?"
"Ik, uh, ik ga voor een paar maanden naar Amerika."
"Wat moet je daar nu..- oh, nee. Toch niet voor die Bill, hè?"
"Uh, nou, ook."
"Hoe bedoel je, ook?" Je kan horen dat hij geïrriteerd begint te raken en je hebt steeds meer twijfels of het wel zo'n goed idee was om hem überhaupt te bellen.
"Ik, uh, ik begin in februari op de University van Los Angeles."
"Oh. Oké. Dus je stopt niet met je studie?"
"Nee, pap. Ik maak mijn studie gewoon af." Je zucht - niet dat dat hem wat aangaat, je werkt en betaalt al jaren zelf voor je studie. "Ik begin ook met een stage op een highschool in oktober."
"Oh. Nou, goed. Had je verder nog iets?"
"Ik vertrek overmorgen."
Het blijft even stil aan de andere kant. "Oké. Nou, bedankt voor je belletje. Doei, Maud."
"Dag pap."
Je staart een beetje beduusd naar je telefoon. Je had heus niet verwacht dat hij ineens afscheid van je wilde komen nemen ofzo, maar je had ook niet verwacht dat hij zo kortaf en kil zou reageren. Bill pakt je hand vast en knijpt er zacht in.
"Are you okay?"
"Oh, yeah. I will be. Just remembered that my dad is a complete asshole."
"Do you want to talk about it?" Je ziet de bezorgdheid in zijn ogen en je probeert dapper de brok in je keel weg te slikken, terwijl je 'nee' schudt.
"I'll be fine. He's always been like this. Don't even know why I bothered calling him in de first place." Je werpt een blik naar buiten en zet een neppe glimlach op. "We have to get out at the next stop."