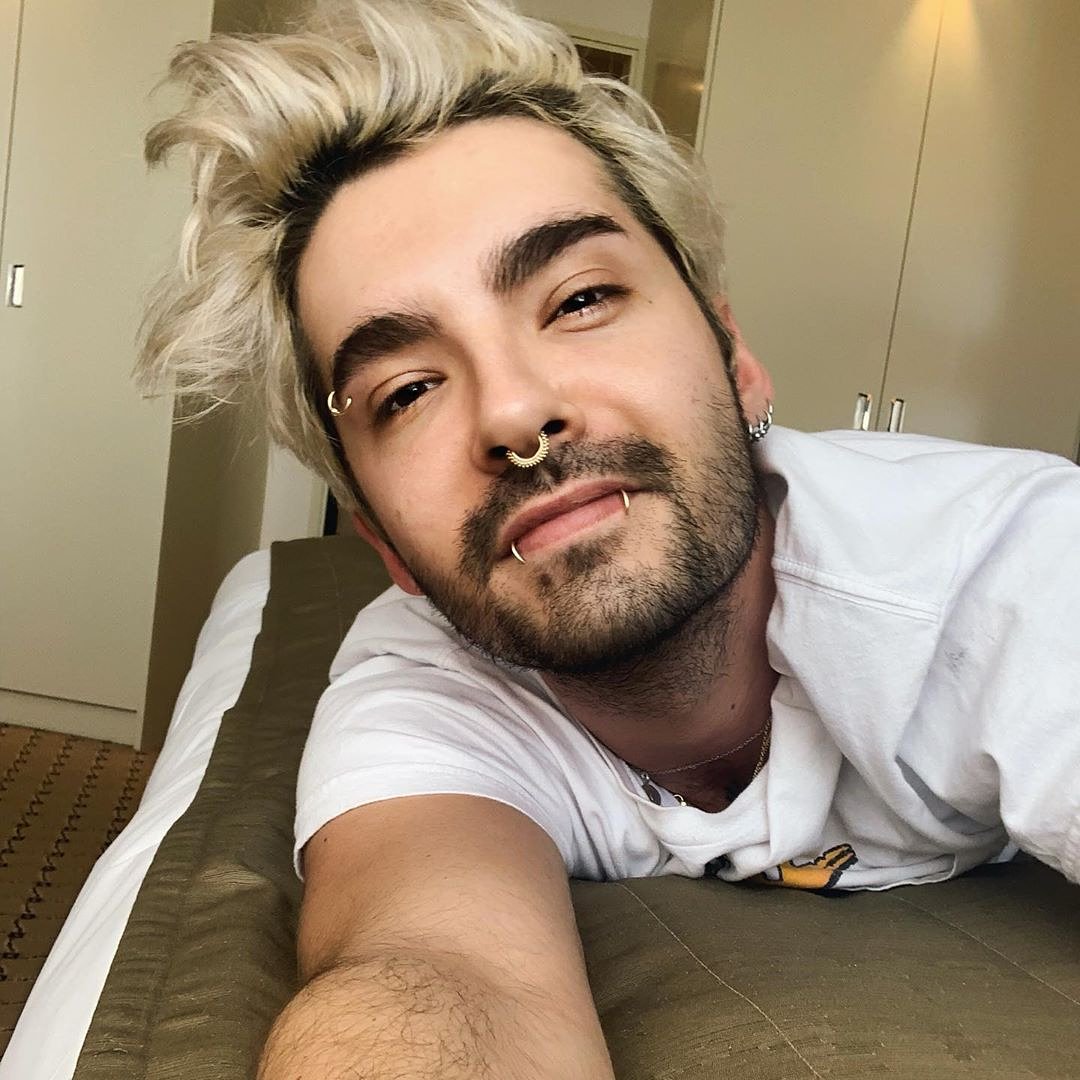 Het weekend vliegt voorbij, nu de tweeling weer thuis is. Je kan je ogen - en handen, en lichaam - amper van Bill afhouden. Soms is het zo vreemd om te beseffen dat dit allemaal echt gebeurt. Dat je echt in Los Angeles zit nu. Met Bill Kaulitz. Je woont - al is het tijdelijk - in een fucking villa in Los Angeles met Bill Kaulitz. Er zijn rottere plekken om schrijfopdrachten na te kijken, bedenk je met een glimlach. Het is inmiddels zondagmiddag en je ligt op één van de ligbedden langs het zwembad met een stapel papieren op je schoot. Je hebt je knieën opgetrokken, zodat je de papieren daar tegenaan kan zetten, en werkt je langzaamaan door de verhalen in de Past Tense heen. Je zit net in een spannende short story, als je schrikt van de waterdruppels die op je schouder druppelen. Je draait je met een ruk om en ziet dat Bill je verontschuldigend aankijkt.
"I didn't mean to scare you," glimlacht hij en hij drukt een natte kus op je voorhoofd. "I was just curious what you were reading. I was waving to you from the pool, but you didn't seem to notice."
"Sorry," mompel je, terwijl je je hoofd en schouder droog veegt. "You're making me wet."
Hij wiebelt even met zijn wenkbrauwen. "Normally you don't really complain."
Je rolt je ogen, maar grinnikt. "I only have a few stories left and then I'm all yours."
"All right." Hij gaat op de stoel naast je liggen en kijkt je vragend aan. "What is this story about?"
"It's a short story. Kind of a thriller, I guess. It is about this man, who meets the person who murdered his wife and now he keeps running into this guy and I think he's about to kill him."
"You hadn't finished it yet?"
"No, that's why you startled me."
Bill kijkt even bedenkelijk, draait zich dan op zijn buik en vouwt zijn handen onder zijn kin. "Read it to me?"

Met wat vertraging, omdat je de laatste paar verhalen hardop aan Bill voorgelezen hebt, heb je eindelijk de stapel nakijkwerk doorlopen. Je loopt met de stapel naar binnen en stopt ze direct terug in je tas, zodat je zeker weet dat je ze morgenochtend niet vergeet. Je werpt een blik de keuken in en ziet dat Tom en Heidi, er waarschijnlijk vanuit gaande dat er niemand in de buurt is, staan te dansen op de muziek die ze aan hadden gezet tijdens het koken. Het schijnt één of ander Duits gerecht te zijn, wat uren bereiding kost, maar als je het goed begrepen hebt, klinkt het als een soort stoofvlees. Voor Bill wordt er natuurlijk iets anders gemaakt, want die eet geen vlees. Als je terugkomt in de tuin, ligt Bill nog op de ligstoel. Hij staart een beetje puzzelend voor zich uit, terwijl hij Stitch over zijn kop aait.
"You okay?" Je gaat op de stoel naast hem zitten en vouwt je benen in kleermakerszit onder je.
"Oh, yeah." HIj kijkt even op. "I was just thinking about that story."
"The one with the wife and the murderer and-"
"I can't believe one of your students thought of that," gaat hij verder. "This guy thinks that his wife is murdered. He thinks he meets the murderer. He thinks he kills the murderer. In the end, his wife isn't even death and he had been seeing his alterego?"
"That pretty much sums it up," grinnik je. "The student who wrote it shows great potential, but he is too shy to admit he enjoys writing. That is, of course, not cool."
Bill leunt achterover op de stoel en vouwt zijn handen onder zijn hoofd. "I wish I could write like that."
"You write amazing lyrics," protesteer je. Hij haalt onverschillig zijn schouders op.
"I guess. That is different, though."
"Different, how?"
"I don't know. Just different. You wouldn't understand, you can write fiction as well."
"Fanfiction," verbeter je. "Well, I could never write lyrics, so..."
"Have you ever tried writing something else?" Twee nieuwsgierige, bruine ogen kijken je vragend aan.
"Yes."
"And?"
Je haalt ontwijkend je schouders op. "And I'm a teacher, not a writer."
"Why not both?"
"I don't know." Je ontwijkt nog steeds een beetje zijn blik.
"What used to inspire you to write in the first place?"
Je bijt op je onderlip. Jij, wil je zeggen, maar hoe desperate klinkt dat wel niet?! In plaats daarvan haal je opnieuw je schouders op. "Don't remember."
"Hm, maybe you should try picking up writing again," oppert hij, terwijl hij mijmerend naar de overdrijvende wolken kijkt. "Might be nice to have something to do when we go on tour in two weeks."