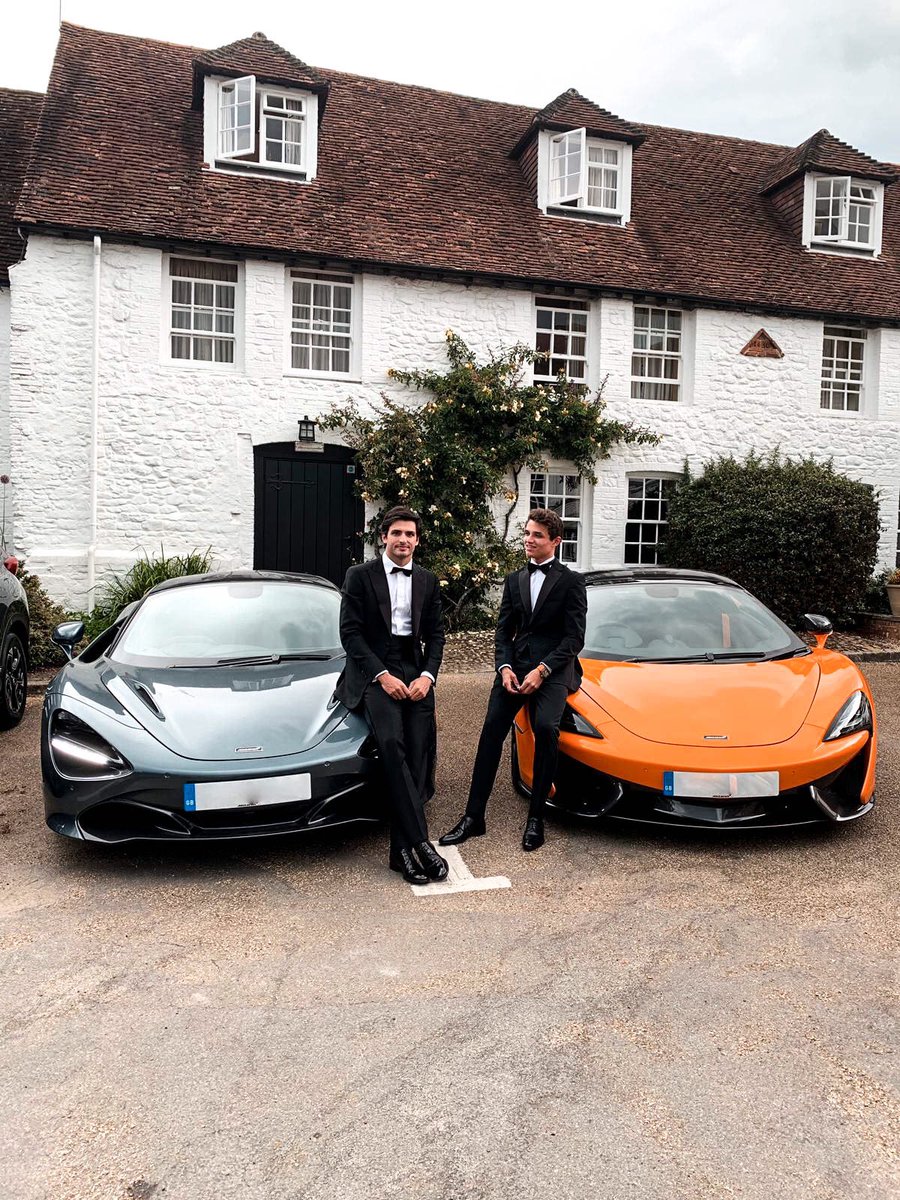 Aleesha Harris

'What I wanted to ask is what your favorite food is?' Enigszins overdonderd begin ik te denken, wat mijn favoriete eten is, waarom? 'Well.. Ehm.. I like sushi and I am deeply in love with Italian food, why?' 'I just wanted to know that. So Lando what time will you be back in that little town?' De telefoon richt ik op Lando zodat ze elkaar kunnen zien en ik zie Lando bedenkelijk kijken. 'If I want some speeding tickets we'll be there in half an hour, otherwise it will be 45 minutes to an hour.' 'Okay, thanks. Then I know enough. See you tomorrow at MTC?' Lando knikt en richt zijn aandacht op de weg voor hem. 'Yes, see you.' 'Ciao Lando! And see you also tomorrow gorgeous.' 'Bye handsome.' Carlos zwaait nog even en als ik ook terug zwaai hangen we beiden op. 'Allright, what was that about and why does he want to know what time we will be home?' 'I don't know?' Ik draai mezelf half om naar Lando en trek mijn ene wenkbrauw omhoog. 'You know it but you don't want to tell it.' 'No serious I don't know why, so now zip it.' Hier ging ik mij dus niet bij neerleggen en Lando wist dat. Ik kijk hem aan van onder mijn wimpers en zie hem met zijn ogen rollen. 'Please Aleesha leave it to rest.' Een zucht verlaat mijn lippen en leg mijzelf er maar bij neer dat hij toch niets gaat zeggen. 'Allright different subject, looking forward to the coming two races?' 'Absolutely. Can't wait, also very curious to drive the Mugello circuit where none of us ever raced before.' 'Yeah I am also very curious about that one. Normally it is a MotoGP circuit right?' 'Yes it is.' 'You're still fangirling about Valentino Rossi aren't you?' 'Of course I am, that guy is a brilliant driver. I still consider myself very lucky to have met him and watched the race.' Buiten Formule 1 was Lando ook nog fan van MotoGP en ik keek graag met hem mee. 'Rossi changed seats with Lewis, isn't that something for you?' 'Would be great but I don't think that will happen.' 'Maybe you can challenge him in a round around Mugello, see who is faster.' 'Wel that will definitely be me, our car is faster around the circuit.' Ik knik als teken dat hij gelijk heeft en kijk even op de navigatie. Nog een kwartier en dan waren we weer in Guildford.

Zoals gedacht reden we 10 minuten later de vertrouwde parkeergarage in. Lando parkeert zijn auto op de aangewezen plek en als we stilstaan stap ik uit. Ik rek mijzelf even uit en neem dan mijn tas van Lando over. Ik werp even een blik op mijn auto die er nog steeds glimmend bij staat. Mijn blik valt dan op een briefje onder mijn ruitenwisser en bedenkelijk trek ik mijn wenkbrauwen omhoog. 'What's up?' 'Well there is a note under my windscreen wiper.' Lando trekt ook zijn wenkbrauwen op en ik pak het briefje onder de ruitenwisser vandaan. 'Hi gorgeous, I did not have the guts to ask this in person, but do you want to go on a date with me when we are in Italy? I will choose the best restaurant where we can enjoy a great dinner, if you say yes ofcourse. Xoxo mister handsome.' Lees ik voor en meteen begint Lando breeduit te grijnzen en geeft mij daarna een enorme knuffel. 'You are going to say yes, right?' 'I guess so, yes.' Lando rolt met zijn ogen en loopt dan voor mij uit richting de liften. 'Wait, if this is here, that means that he is also somewhere around, right?' 'Ofcourse numb nut, we have a meeting tomorrow at MTC remember?' 'Oh, yes of course.' Met een blos op mijn wangen loop ik snel langs Lando de lift in waar ik direct op het knopje van de juiste verdieping druk. 'So when will you give him an answer?' 'Well if I can find some guts I will do that tomorrow in person.' 'The two of you are so unbelievable, you know that?' 'I love you too Lando, you're coming with me or are you going up?' De liftdeuren houd ik open door mijn voet ervoor te plaatsen en ik kijk Lando afwachtend aan. 'I'll order some food later and then see you at dinner time?' 'Like that, see you later then.' Lando geeft mij nog een kus op mijn wang en ik loop vervolgens de lift uit naar mijn appartement. Daar aangekomen steek ik de sleutel in het slot en tot mijn verbazing gaat de deur gelijk open, ik had hem toch op slot gedaan? Ik stuur snel Lando een berichtje dat mijn deur niet op slot is en dat hij moet komen kijken als ik over 5 minuten nog geen berichtje terug heb gestuurd. Hij leest het, maar stuurt niets terug. Ik vergrendel mijn telefoon en loop stilletjes het appartement in. Als ik de gang uit ben valt mijn blik op een zwarte haardos die op de bank zit. 'What are you doing here?' 'Hey gorgeous, I am here for you.' Hij lacht en staat dan op om op mij af te lopen. Mijn tas laat ik op de grond vallen en dramatisch grijp ik naar de plek waar mijn hart zit. 'You gave me a heart attack, you know?' 'Yeah, sorry 'bout that but it was supposed to be a surprise.' 'That definitely worked.' 'Sorry. Want a hug?' 'Yes please.' Carlos slaat zijn armen om mij heen en ik sla die van mij ook om hem heen. Genietend snuif ik stiekem zijn geur op en kan er niets aan doen dat ik hier met volle teugen van geniet. 'ALEESHA! YOU OKAY?' Oh ja, Lando vergeten, shit. 'Yes you're okay, good to know.' 'Sorry, totally forgot it, still a good thing that you come and check. Wait, you knew that he was going to be here?' '10 points for Aleesha, yes I knew.' 'I hate you.' 'I hear this phrase way to often and no, you love me admit it.' 'Fine I love you okay?' 'That's what I want to hear. So enjoy, don't do things I wouldn't do and see you later!' Ik zoek snel iets wat ik naar Lando zijn hoofd kan gooien, maar hij is al het appartement uit. 'I hate him.' 'No you don't, but let's get you in a better mood, want some Sangria?' 'You brought Sangria?' 'Yes my mother made it.' 'Really?' 'Is that so weird?' 'Well the fact that your mother makes it and you take it is a bit weird yeah.' 'Well I told her I was going to you and she was so happy about that, that she suggested to take something really nice with me because I was going to scare you.' 'Your mother is sweet.' 'I know, wait untill you meet her, she likes you already.' Carlos loopt weg richting de keuken waar hij een grote kan uit de koelkast haalt. 'How is that, haven't met her and she already likes me? Why is that?' 'Because you make me smile.'Die zag ik niet aankomen en mijn hoofd besluit dan ook knalrood te worden. Carlos komt voor me staan en probeert mijn blik te vangen. 'You found the note?' 'Yes I did.' Nog steeds kijk ik hem niet aan en richt mijn blik op mijn schoenen die ineens mega interessant blijken. 'So, do you have an answer for me?' 'Yes I have and I would love to go on a date with you, but..' Carlos kijkt blij maar toch ook vragend aan. 'But?' 'Well, what about that article in the contract?' 'I will deal with that, don't worry about a thing.' Ik knik even en richt dan mijn blik wel op Carlos. 'Than it is a definite yes.' Carlos krijgt een lach op zijn gezicht en overhandigd mij een glas gevuld met Sangria. Grijnzend en blozend tegelijk tik ik mijn glas tegen ze zijne. 'Cheers to a nice dinner date which will come in the following two weeks.' 'Cheers.' Ik neem een slok en laat het heerlijke drankje door mijn keel glijden. 'Oh my, this tastes really good. You really have to thank you mother for this.' 'I will, now let's pull out those shoes and let's go sit.' 'Oh yeah great idea.'
Er zijn nog geen reacties.