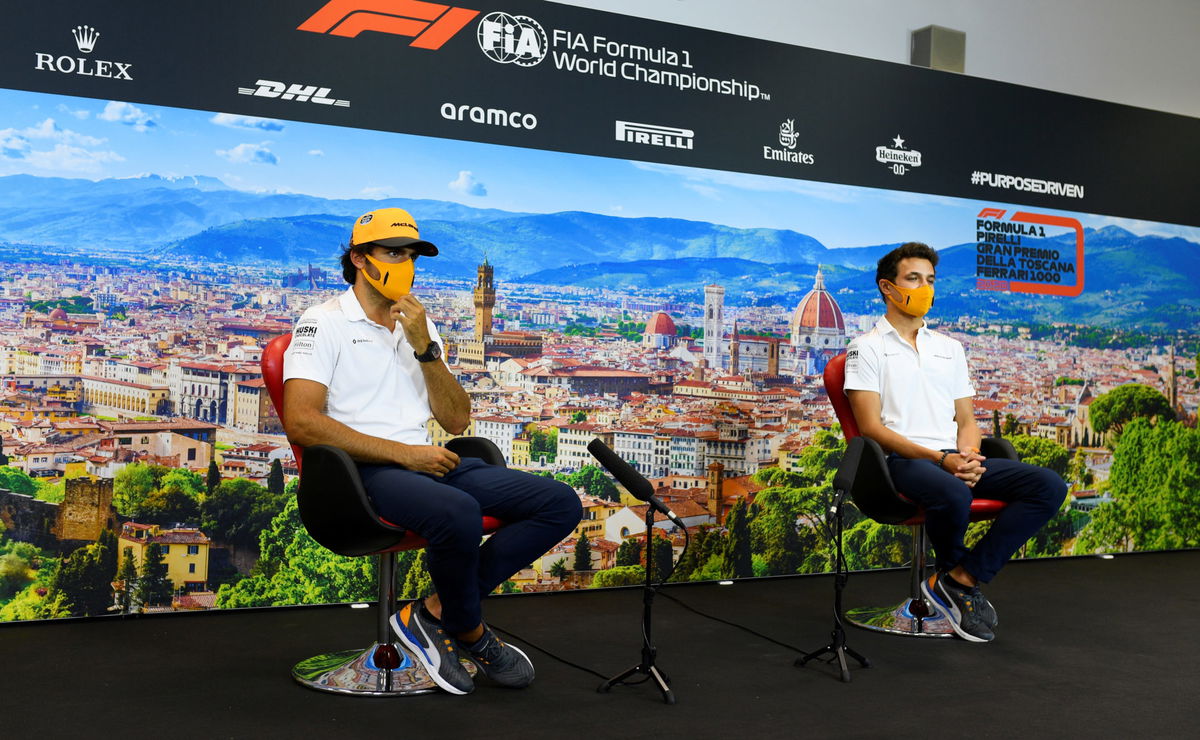 Aleesha Harris

'Let us forget this race asap please.' Carlos zit wat balend in het motorhome, en ik kan goed begrijpen waarom. 'Why? I got into six, that's not so bad.' 'Lando.' Bestraffend kijk ik Lando aan die vervolgens ook wel door heeft dat zijn opmerking niet heel handig was. 'Sorry mate, did not mean it that way.' 'I know, I am just very much disappointed.' 'Let's forget about it and work towards the next race. First you have two weeks off and then it's time for Russia.' Probeer ik Carlos nog wat op te vrolijken, maar tot nu toe zonder succes. 'What time will your sister be here tomorrow?' Ik kijk Caco even vragend aan die vervolgens weer op zijn telefoon moet kijken. 'At eleven. What time do we have the plane?' 'At 6, so enough time.' 'At 6? I thought at 12?' 'You have the plane at 12 Lando, with all the rest back to London. I'm not going to London.' Ik ging namelijk met Carlos en Caco mee naar Spanje. Van McLaren had ik een week vrij gekregen nadat Carlos mij had gevraagd of ik mee wilde met hem om zijn familie te ontmoeten op Mallorca. Na onze eerste date had hij mij namelijk gevraagd of ik zijn vriendin wil zijn en daar had ik dan ook volmondig ja op geantwoord, en nu ging ik zijn familie ontmoeten, en wat ben ik daar toch zenuwachtig voor. 'Yeah true, but how will I survive all alone?' 'Don't whine like that, you are going to your parents on Tuesday, one day alone is doable?' 'Yeah you are right, totally forgot that.' Een triomfantelijke grijns verschijnt op zijn gezicht en kan het niet laten om even met mijn ogen te rollen. 'You know you take to good care of the guy? Will he ever grow out of his diapers?' 'Take that back, I am grown up Charlotte.' 'No you're not, Aleesha arranges everything for you, if your head wasn't on your body you would forget it. But Aleesha always makes sure that you have everything and don't forget any appointments.' Een lichtelijk betrapte uitdrukking schiet over Lando zijn gezicht. 'To be honest, yes you are right about that. Maybe it is time to handle my own stuff, it's just hard I don't want to miss her.' Lando trekt een pruillip en ik sta dan ook gelijk op en sla mijn armen om mijn beste vriend heen. 'Don't worry, I will never leave you.' Lando slaat ook zijn armen om mij heen en wurgt mij nog net niet. 'I love you Aleesha.' 'I love you too Lando.' Mijn ogen richten zich vervolgens op Carlos waar ik een I love you naar mime en deze ook van hem terug krijg. 'Alright guys, time to go back to the hotel for some well deserved rest.'

'I'm going to miss you.' 'Awh I will miss you too Lando. Please give everyone a hug for me.' 'I will definitely do that. Enjoy your time in Spain, his family is amazing believe me.' 'I believe you, still a bit nervous, but it will be all right. See you in a week.' Ik geef Lando nog een laatste knuffel en wens hem een goede reis terug. 'Good luck with him, if you need anything just say.' 'Thanks and I will, but my job gets easier since you are with Carlos, so we just switch. Do make sure that you are not on the pictures if he wants to post something on Instagram.' 'Already thought of that, will do.' Ik geef Charlotte nog een knuffel en zwaai dan de rest van het team ook uit. Tegen het team hadden we gezegd dat ik met een vriendin had afgesproken in Rome en daarom niet mee terug vloog. Gelukkig ben ik zelf niet zo actief op Instagram dus zou het niet opvallen dat er geen foto's verschenen. Daarbij had ik de mazzel dat ik vorig jaar daadwerkelijk met een vriendin naar Rome was geweest, dus was het een halve smoes. Als iedereen uit het zicht verdwenen is loop ik de tuin van het hotel in waar ik naast Carlos op een bankje plof. 'Nervous?' 'Is it weird if I say yes?' Carlos begint te lachen en slaat dan zijn arm om mij heen. 'Nope, not at all.' 'Than I am nervous.' 'I understand you are, but that is not necessary, they will like you I am sure of it.' 'You keep on saying that, but still I will stay nervous. And you have to teach me Spanish. I don't want all of you to keep on talking English just because I don't understand Spanish. I will try and find a Spanish course.' 'Don't do that, you learn it best from people around you. I will support you, and I know Caco will do that as well.' 'Do what?' Beiden kijken we op naar de man die tegenover ons op een ander bankje is gaan zitten. 'Support her with learning Spanish.' 'Ah yes of course I will. You learn it the fastest when you hear it from others. Courses don't work.' Carlos geeft mij een 'ik zei het je toch' blik en ik knik even. 'Alright, but you have to start fast, I was just telling Carlos that I don't want you guys to keep on speaking English just so that I understand.' 'Too bad for you our family is a bit stubborn and they will do that. Only our grandparents not, I don't think Tito and Tita speak English?' 'No I don't think so. We'll teach you soon.' 'Great guys thanks.'

'Heya guapa!' Caco springt op van het bankje en geeft een knappe dame een knuffel. Ook Carlos staat op en slaat zijn armen om haar heen. 'You must be Aleesha, I am Avalina, nice to meet you!' Ze komt enthousiast op mij af gelopen en slaat haar armen om mij heen. In haar enthousiasme meegaand sla ik ook mijn armen om haar heen. 'Nice to meet you too. Heard some great things about you.' 'Can't be that great, I never see the two of them. Heard some great things about you as well.' 'Good to know.' 'Jorge where are you manners?' 'Oops sorry, hi I am Jorge Martin.' 'I'm Aleesha, nice to meet you. Already thought to recognize your face.' 'You're a fan?' 'Well I watch all the MotoGP, Moto2 and Moto3 races normally with Lando, he loves it, so yeah I can say I am a fan.' 'That's awesome.' 'It is, great sport to watch.' 'More awesome to experience the feeling on the bike.' 'That's really nothing for me, I am sure I would crash in the first corner.' Jorge begint te lachen en kijkt dan weer serieus. 'Let's try that once, if you're open for it?' 'I think Lando would be really jealous, but why not.' 'Nice, you as well Carlos, you still have to ride the bike once.' 'I know, will come next year when driving on the big bikes.' 'You're going to MotoGP?' 'It is still confident information, but yes. We were just with Ducati to sign all the contracts.' 'You will ride for Ducati?' 'No for Pramac, but I ofcourse take Ava with me so we had to sign everything for next season.' 'That's nice, you excited.' 'Of course, can't wait.'

We zaten nog lang te praten op het terras met Avalina en Jorge en hadden inmiddels ook wat gegeten. 'You excited to meet the family?' 'Yes I am, but also a bit nervous.' Een glimlach verschijnt op haar gezicht en ze knijpt mij even bemoedigend in mijn schouder. 'It will be alright, they will like you I am sure of it. Maybe his sisters will be a bit reserved, but just ignore that.' 'Why is that?' 'Well, they did not like Carlos his former girlfriend, she gave everyone a bad feeling from the start and eventually that feeling was the right one.' Lichtelijk verward kijk ik haar aan. 'She made use of Carlos. She was quite handsome and she posted a lot of pictures with them together on Instagram and with that she received a modelling contract. The moment she received that contract she put Carlos aside. Me, Blanca and Ana already had that feeling from the beginning and unfortunately we were right, so therefore they will be a bit reserved.' 'I can imagine than. What a bitch.' 'She definitely was, but enough about her, I already like you.' 'Thanks, that's nice to hear and I promise you I am not with him because of his name.' 'I have never doubted that until now.' 'Great, I just need to learn some Spanish, heard your grandparents don't speak any English?' 'No that's true. I will help you as well, give me your phone number.' Ik pak lachend haar telefoon aan en zet mijn telefoonnummer erin. 'Great, just send me a message when your are back in England and I will call you to go through some basics and things you need to know.' 'Thank you for that, that's awesome.' Als hun hele familie zo was als Ava wist ik zeker dat ik mij er snel thuis zou voelen, ik kon eigenlijk niet wachten om iedereen vanavond te ontmoeten.
Er zijn nog geen reacties.