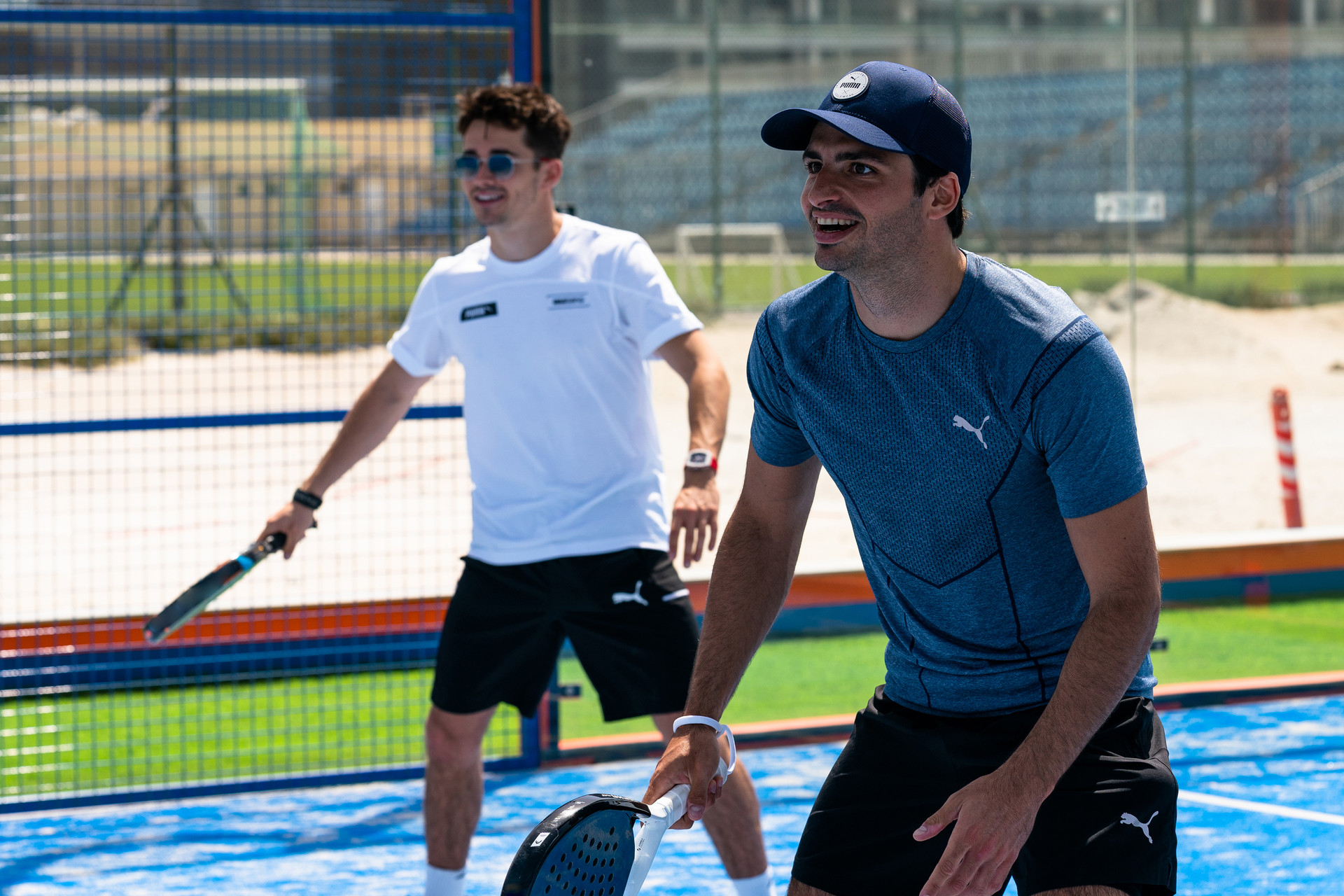 Aleesha Harris

'Let's go play padel tomorrow, that would be fun.' 'Play what?' 'Padel, you never heard of that?' 'Euh no.' 'It's fun, you'll see tomorrow.' 'Okay.' Ik kijk Charlotte even vragend aan die enthousiast begint te knikken. 'It is fun, it's a mix between tennis and squash. Wait I made a little movie the last time they played.' Charlotte pakt haar telefoon en propt zich naast mij en Carlos op de bank. Ze start het filmpje en ik moet eerlijk zeggen dat het er best leuk uit ziet. 'You play it really fast, not?' 'It's a fast game yes, but also kinda unpredictable and funny.' 'You ever played it?' 'Yes back in Monaco with some friends. You can do it.' 'No doubt about that, I played tennis a lot with my dad when I was younger.' 'Then it should be easy for you.' 'We'll see.' 'But first, more wine!' Charlotte pakt mijn glas en schenkt voor ons beiden nog wat van de wijn in die ze heeft meegenomen. Ik begin wat licht in mijn hoofd te worden maar toch neem ik het glas nog aan van Charlotte. 'Last one and then we are going.' 'You ruin all the fun, but okay.' 'Shall we play?' Charles wijst naar de Playstation en Carlos knikt terwijl Charlotte en ik enthousiast aan het kletsen zijn over vanalles en nog wat, maar vooral over haar schoenen werk. 'I'm going to make a pair for you as well.' 'That's nice of you, I'm curious.' 'Watch what you say, you will walk around with very bright and colourful shoes then.' 'I don't mind, you can combine it with less bright clothes.' 'She understands it.' 'Yeah whatever.' Charles draait zich weer om naar het scherm en vrolijk kletsen wij verder. Als onze glazen leeg zijn gaan Charlotte en Charles weer weg en een gaap verlaat mijn mond. 'You tired?' 'Not really, a bit lazy after this day.' Mijn armen sla ik om Carlos zijn nek en ik druk mijzelf dicht tegen hem aan. Zijn handen liggen op mijn heupen en onze lippen vinden elkaar als magneten. Carlos tilt mij op en als vanzelf sla ik mijn benen om zijn heupen. Al zoenend loopt hij de slaapkamer in en brengt ons naar het bed waar hij mij voorzichtig neerlegt. Snel sluit hij de gordijnen en komt dan over mij heen hangen. Wederom vinden onze lippen elkaar en het duurt niet lang voor al onze kleding verspreid door de kamer ligt. Onze ademhaling gaat gejaagd synchroon en het duurt dan ook niet lang voor we de liefde met elkaar bedrijven.

'Hey gorgeous, you are up early.' Carlos komt in zijn boxershort de keuken in gelopen en geeft mij een kus. 'Always lately, can't sleep after 7.30.' 'Alright. This for me?' Ik knik even en schuif dan ook nog een kop koffie voor zijn neus terwijl hij tevreden begint aan zijn yoghurt met muesli en fruit. 'This tastes different, very good though.' 'It's my muesli, brought some from home.' 'You made this?' 'Yes because all the muesli in the supermarket isn't that healthy if you are on a balanced diet, so I made it myself.' 'It tastes good, thank you babe.' 'You're welcome.' 'Is that my shirt?' 'Yep, first thing I found on the floor.' Ik lach even als ik terugdenk aan gisteren avond. Eerlijk gezegd was het namelijk al een tijd geleden dat we zo intiem waren en stiekem had ik het wel gemist. 'What are you thinking of?' 'Last night.' Een grijns komt ook op Carlos zijn gezicht en daarmee constateer ik dat hij aan hetzelfde dacht. 'So what time will me meet Charles and Charlotte?' 'At eleven, Charles is not able to wake up any time earlier then 10.' 'How does he do that in race weekends?' 'Wake up even earlier? No idea.' 'Okay. Where is Carlos actually?' 'He has an apartment nextdoor, he will probably come in any minute.' Carlos is nog niet uitgepraat of inderdaad de voordeur gaat open en Carlos zijn naamgenoot, neef en tevens manager komt binnen wandelen. 'Buenos dias - Hi Aleesha.' 'Euh hi.' 'Morning.' Carlos gaat zitten en krijgt een grijns op zijn gezicht. 'Don't say a thing.' 'I won't, is there some more coffee?' 'Yes here you go, I'm getting dressed.' Ik loop snel weg naar de slaapkamer waar ik mijn sportkleding uit de koffer haal. Ik fris mijzelf even snel op in de badkamer en ga aangekleed de kamer weer in waar Carlos inmiddels zijn ontbijt op heeft. 'I should get dressed as well. You look handsome.' 'Thanks, you as well in that boxershort.' 'You like it?' 'I do.' 'Good.' Carlos loopt verder en ik ga weer aan de bar zitten. 'Didn't expect you here.' 'I didn't expect you either.' Kaats ik terug. 'Touche, but you guys all good again?' 'Yes, but it still stays difficult with the distance and the work.' 'True that, isn't there an option to work from here for example?' 'There is, IT installed a VPN yesterday so I should be able to work from here, let me check.' Ik pak mijn Macbook uit mijn tas en open hem. 'You know Carlos his WiFi password?' 'I do, It's Ca100920!' 'Ah that's cute.' 'He can be sometimes.' Zijn wachtwoord was een combinatie van onze voorletters en de datum waarop we 'officieel' een relatie kregen. 'It seems to be working, I can enter my files so that's good.' 'That's nice, distance is not that much of a problem than.' 'Sometimes, I also need to be in the factory more often considering my current job.' 'True that, everything ready for the launch next week?' 'All done, Charlotte and myself worked a lot and long days.' 'Good thing everything is done.' 'Absolutely.' 'I'm done!' 'Great, so half an hour chill time and then we have to go.' 'Yep.' 'Where are you going?' 'Playing some padel with Charles and Charlotte.' 'Nice, great workout.' 'I heard that yes, that's a good thing.' 'You're also into sports?' 'Yes, used to play tennis on a high level and now I am going out for a run thrice a week and go cycling with Lando twice a week.' 'Miss sporty, great.' 'Trying my best.' 'Watch it Carlos or she will get fitter than you.' 'Not a chance, he trains too hard for that.'

'Hey Carleesha! Ready?' 'Carleesha, funny one Charlotte.' Ik geef de brunette een knuffel en twee kussen en doe bij Charles hetzelfde. 'Ready for it?' 'I think so.' 'Easiest is to just go playing and then you will find out what the rules are. Just hit the ball. It is allowed to go through the wall, make a bounce and then you hit it.' 'Okay, let's just play.' Ik ga aan dezelfde kant staan als Carlos en Charles begint het potje. Uiteindelijk blijkt het best gemakkelijk te zijn en ik heb het dan ook al snel door. 'Let's switch, girls versus boys.' 'You'll regret that, we are going to kick your asses.' 'No you're not.' 'Yes we are.' 'Let's make it a bet, massage for us if we win.' Ik kijk Charlotte even aan en knik dan naar haar. 'Massage for us if we win and no sex for you guys.' 'Oh no that's a punishment, wait for how long?' 'Until the end of the weekend.' 'We have to win this, I don't see her in three weeks after this weekend.' 'Same here, let's go for it.' Charlotte en ik liggen dubbel van het lachen en gaan dan klaar staan terwijl de twee tegenover ons in de aanval modus staan. 'They definitely don't want to lose.' 'No they don't, let's make them.'

'Let's make it a match point.' We hadden flink wat potjes gespeeld en nu stonden we gelijk. 'Let's go!' Charles slaat op en de rally duurt even totdat Charles de bal geweldig mooi aanspeelt waarna ik hem af kan maken. Carlos is kansloos en zo winnen wij. 'Noooo.' Charlotte en ik vliegen elkaar in de armen en samen springen we wat op en neer. 'We won!' 'Yeah congratulations with that.' 'You girls are mean.' 'Maybe, maybe not.' 'I think we both think the same.' 'Ofcourse we are, this is going to be fun.' Natuurlijk waren we niet echt van plan om ze dat te onthouden, ook wat eigenbelang natuurlijk, maar het was gewoon grappig om hun reactie te zien. 'Let's get a drink.' 'Good idea.' Als we net zitten haalt Charlotte een doos boven tafel en zet hem voor mijn neus neer. 'What's this?' 'Open it!' Ik open de doos en een paar fantastisch leuke hardloopschoenen komen uit de doos. 'I made them, for you.' 'You're crazy you know that?' 'Maybe, but I just love it.' 'They are awesome Charlotte, thank you.' Ik geef haar een knuffel en bewonder de schoenen verder. Behalve veel kleuren staan er ook teksten als 'take me for a run' 'goooooo' en 'one mile more' op en ik vind ze geweldig. 'These are so cool, I'm going to use them tomorrow.' 'Want to go for a run together?' 'Great idea.' 'What about us?' 'You can also go for a run together?' 'Can we go with you?' 'Maybe if that massage is very good.' 'Yeah okay, Charles let's go together.' 'Good idea.' We lachen nog even wat en onze wegen scheiden weer zodra het drinken op is. 'What's on the program for the rest of the day?' 'Not much, I just received a message from Mattia that he wants to see us, and Avalina is coming for dinner tonight.' 'Why is she in Italy?' 'She is working for Ducati team and they have the headquarters in Bologna, so she is close.' 'Ah okay, nice to see her.' 'Yes, but first let's take a shower and then go to the HQ.'
Er zijn nog geen reacties.